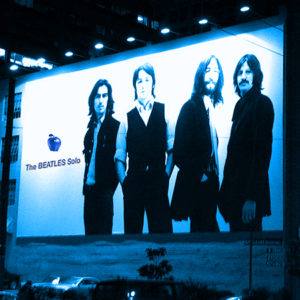 The "Blue Album", released in the aftermath of John Lennon's murder, echoes the turmoil of the times as America swung to the right, and represents a musical transition from happier times to deeply blue circumstances.
All four Beatles were affected by the many twists and turns of popular music — from disco and funk to new wave and punk. The Beatles as solo artists no longer led the voyage into new waters. They were content to create smooth, well-crafted music with a healthy dose of back-to-the roots rock 'n' roll and ballroom dancing.
In this fantasy, the remaining Beatles put together this album using some of Lennon's songs from previous years along with some new ones, and saving other songs that Lennon had just finished (or partially finished) for a future album. Thus, Lennon songs from 1974 are combined with songs from 1980.
Here are the sides in Apple Music/iTunes, and in Spotify:
Apple Music playlists:
Side 1 | Side 2 | Side 3 | Side 4 | Side 5 | Side 6
Spotify playlists:
---
Sources
| | | |
| --- | --- | --- |
| Definitive biography of John Lennon: | Definitive critique of John Lennon: | An insider (Barry Miles) biography of Paul McCartney: |
| The authorized Paul McCartney biography by Philip Norman: | George Harrison's own autobiography I Me Mine: | George Harrison's autobiography of the Dark Horse years: |
| Biography of Ringo Starr: | George Harrison music analysis: | Olivia Harrison's biography: |
Other:
Paul McCartney: Recording Sessions (1969-2013). A Journey Through Paul McCartney's Songs After The Beatles
Being John Lennon: A Restless Life
Books by John Lennon (including lyrics and songbooks)
Liner Notes
The Blue Album covers a span mostly from 1980 to 1989, featuring some material from John Lennon's solo album Double Fantasy, released in 1980 just three weeks before he was murdered. It also includes material from Tug of War, Paul McCartney's solo masterpiece and his first album after the murder, produced by former Beatles producer George Martin. The album reaches back to songs from Lennon in 1974, and also to Ringo's hit "Photograph" in 1973, which serves as part of the eulogy.
The "deep blue" theme appears in many songs besides George Harrison's "Deep Blue" — notably Lennon's precise description of the blues, "whatever gets you through the night, it's alright"; his fear in "Scared"; and his forthright condemnation of the music industry in "Steel and Glass". Harrison's bemoans "That Which I Have Lost", declares he is not guilty of any deception in the India travesty, and bares his distaste for fans who want blood from a clone. McCartney warns about simple waterfalls, rough rides, tugs of war, and days that are done.
The triple album offers some optimistic and happy songs, including McCartney's infectious "Ballroom Dancing", and Lennon's most optimistic song of all, "(Just Like) Starting Over". It also provides a glimpse behind the public mask, with songs like "My Brave Face" and "See Yourself". Which makes it all the more sad to hear, at the end of the album, the eulogies to the fallen Lennon.
Side 1
At this point, after the revolution and counterrevolution of the 1960s and 1970s, Lennon starts the album with the answer. Whatever gets you through the night, it's alright. Harrison provides a joyful sequel to "Here Comes the Sun" and McCartney quotes his dad's handshake phrase ("Put It There"). Harrison then claims innocence for leading the rest of them on the road to Mandalay, while Lennon closes the side with a vicious swipe at his former manager.
Whatever Gets You Thru The Night
This was Lennon's only solo number 1 single in the United States during his lifetime. The recording featured Elton John on harmony vocals and piano. 
A Paul McCartney ballad from his first solo album after Wings. McCartney is by himself, playing a Fender Rhodes electric piano and a synthesizer and singing, and a short solo most likely played on an acoustic guitar.
George Harrison wrote the song while on holiday on the Hawaiian island of Maui in February 1978. The song is seen as a sequel to Harrison's Beatles track "Here Comes the Sun".
Paul McCartney used an old Buddy Holly trick, the knee-percussion, that McCartney recorded on the same day as the backing track. 
George Harrison wrote the song in 1968 following the Beatles' Transcendental Meditation course in India with Maharishi Mahesh Yogi, an activity that he had led the group in undertaking. The lyrics refer to Harrison's relationship with his bandmates John Lennon and Paul McCartney as the Beatles resumed their career in the aftermath to their falling out with the Maharishi. The band spent several days recording the song for their 1968 double album The Beatles (also known as the "White Album"). The track was completed in August 1968 but not included on the release. Harrison revisited "Not Guilty" in 1978 during the sessions for his self-titled album.
A song written and performed by John Lennon, interpreted as an attack on Lennon's former business manager Allen Klein.
Side 2
This side is a rebound from the pessimism of "Steel and Glass" with Harrison taking an upbeat approach to lost illumination and passionate love. McCartney's tough-love "Rough Ride" segues into the howling wolf of Lennon's "Scared", but Harrison again reminds everyone how to blow away bad thoughts. McCartney seems perplexed at the end, with his lyric "What do I do with a sea of blue?"
That Which I Have Lost (Somewhere in England, lyrics)
George Harrison leads with synthesizers and an all-star cast to give this a light pop feel.
Dark Sweet Lady (George Harrison (album), lyrics)
George Harrison seems to answer his first song on this side with this sweet, jazzy tune that features a harp.
A moody piece about life from Paul McCartney that showcases his bass, among other things.
Scared (from Walls and Bridges)
A haunting track exploring John Lennon's fear of aging, loneliness, and the emptiness of success.
This song follows "Scared" to soothe the soul. The song is one of George Harrison's simplest pop compositions and one of his more popular songs among his fans, with Harrison playing lead slide guitar.
Be What You See (Link Track)
Dress Me Up As A Robber (from Tug of War album)
Paul McCartney ends the side with a catchy jazz-rock fusion tune that echoes the title of the album in the lyric "What do I do with a sea of blue?" McCartney's subtle guitar work is excellent — it sounds like he hired a flamenco guitarist.
Side 3
This side starts with John Lennon's return to his roots in early 1960s rock and roll, from the album Double Fantasy, released in 1980 just three weeks before he was murdered. It includes more material from Tug of War, Paul McCartney's first album after the murder, produced by former Beatles producer George Martin. 
The song is John Lennon's biggest solo hit in the United States, a return to rock and roll, released as a single in late October, 1980, just before his murder. It starts with a chime that reprises the church bells in "Mother".
Ballroom Dancing (from Tug of War album)
Tug of War was Paul McCartney's first album after the murder of John Lennon. The album was produced by former Beatles producer George Martin and also features Ringo Starr on drums. In this song, McCartney returns to his roots in ballroom dancing music, mostly show tunes, which were popular in England when he was young.
Good Times Coming / Feel the Sun (from the Press To Play album)
In Paul McCartney's two-song medley Carlos Alomar contributes a jagged guitar interlude, and Ruby James and Paul's cousin Kate Robbins are on backing vocals. One of McCartney's favorite lines from the album are in this song."I associate that second verse with The Beatles – 'It was a silly season, was it the best?/We didn't need a reason, just a rest!'"
John Lennon wrote this in Bermuda while talking with producer Jack Douglas about people who were big in the 1970s and now cleaning up their alcohol and drug habits, and the conversation ended with Douglas stating that "Well, it's cleanup time, right" and Lennon responding "It sure is." The song is a cousin of Lennon's Beatles' song "Cry Baby Cry," incorporating elements of the nursery rhyme "Sing a Song of Sixpence" with references to the king being in the kitchen and the queen counting the money. Produced by Douglas, with Mixing by Yoko Ono. 
Wanderlust (from the Tug of War album)
This features the Philip Jones Brass Ensemble, who also appeared on Pink Floyd's 1970 album, Atom Heart Mother. 
George Harrison used sparse instrumentation for this song. The recording features three distinctive guitar parts, all performed by Harrison – two finger-picked acoustic guitars, along with fills played on a dobro (his first use of this instrument on a recording). It was released as the B-side to his 1971 charity single "Bangla Desh". Harrison recalled the mix of major and minor chords as reflecting the "frustration and gloom" he experienced while visiting his mother in the cancer ward in 1970. In his autobiography, I, Me, Mine, Harrison says of the mood he captured in the song: "it's that smell and the whole atmosphere of doom that's in those hospitals." One can easily imagine that Harrison would want to include this song on the album immediately following Lennon's death.
Side 4
The most popular of Paul McCartney's songs co-written with Elvis Costello. 
George Harrison began writing the song in 1967, while he was a member of the Beatles, in response to the public outcry surrounding bandmate Paul McCartney's admission that he had taken the hallucinogenic drug LSD. In its finished form, the song's lyrics advocate self-awareness and consideration for the consequences of one's actions. Musically, the composition contains unusual shifts in time signature from standard 4/4 to 9/8.
Somebody Who Cares (from the Tug of War album)
Paul McCartney sings this song to a frustrated person, but you can easily imagine that he was singing about how to get over his own grief after Lennon's death.
Tug of War (from the Tug of War album)
Paul McCartney's equivalent to John Lennon's "Imagine" (according to Rolling Stone) starts with the sounds of people grunting as part of a real tug of war, before Paul goes into the song, and then at the end of the song, it fades into "Take It Away". 
Take It Away (from the Tug of War album)
Paul McCartney features Ringo Starr and long-time producer George Martin in the video for this song. 
Pipes of Peace (from the Pipes of Peace album)
Paul McCartney plays piano, bass and knee-percussion, while tabla was added by James Kippan, and the Pestalozzi Children Choir added voices. Many of the songs released on Pipes of Peace were recorded during the 1981 sessions for Tug of War. The album has many things in common with its predecessor — it was produced by George Martin, and it continued McCartney's alliance in the studio with Ringo Starr, former 10cc guitarist Eric Stewart and his last session work with Wings guitarist Denny Laine. 
Side 5
This side starts with a focus on normalcy — how to be a normal musician without being a clone, how to put on a normal show so that it's the sweetest in town, and how to appreciate normal, average persons. McCartney resolves the tug of war with a tug of peace, and declares the day to be done. Lennon echoes this theme from the grave with "It's Real", an acoustic demo.
Blood from a Clone (from the Somewhere in England album)
George Harrison's song about record executives was recorded as Harrison was becoming increasingly frustrated with the music industry. He name-drops Frank Zappa and New Wave music as "crap" the industry won't play, and how he's beating his head against a brick wall.
Sweetest Little Show (from the Pipes of Peace album)
Produced by George Martin, this song, part of a suite, features Paul McCartney on all instruments. It segues into the next song.
Average Person (from the Pipes of Peace album)
Paul McCartney's song for average people, such as an engine (truck) driver, the man on the beat, a waitress, a boxer.
Tug of Peace (from the Pipes of Peace album)
Produced by George Martin, this Paul McCartney song ends the suite, again with McCartney on all instruments with a little help from his friend Martin.
Paul McCartney wrote this song with Elvis Costello. The album title Flowers In The Dirt was taken from the lyrics of this song.
A song by John Lennon about his house-husband years.
This song features John Lennon whistling a melody over a set of chords played on an acoustic guitar. It was taped on cassette at the Dakota building in New York City in 1979.
Side 6
It is fitting to start off the last side, which is a tribute to Lennon, with Lennon's most important song about human male-female relationships and his love for Yoko. Not all these songs were written as a memorial for Lennon; some were written for other purposes but seem to fit well.
John Lennon wrote this song as an ode to his wife Yoko Ono, and to all women. The track begins with Lennon whispering, "For the other half of the sky …", a paraphrase of a Chinese proverb, once used by Mao Zedong. In an interview for Rolling Stone magazine in December 1980, Lennon said that "Woman" was a "grown-up version" of his song "Girl".
Ringo Starr co-wrote the song with George Harrison. The officially released version was recorded in Los Angeles with producer Richard Perry, and it incorporates aspects of Phil Spector's Wall of Sound through the presence of multiple drums and acoustic guitars, as well as an orchestra and a choir. Aside from Starr and Harrison, the musicians on the recording include Nicky Hopkins, Bobby Keys, Jim Keltner, and Spector's musical arranger, Jack Nitzsche.
Here Today (from the Tug of War album)
A song by Paul McCartney from his 1982 album Tug of War. McCartney wrote the song about his relationship with and love for John Lennon, who had been murdered less than two years before — an imaginary conversation the pair might have had. The song was produced by The Beatles' producer George Martin. 
Life Itself (from the Somewhere in England album)
One of George Harrison's most overtly religious songs, the lyrics praise Christ, Vishnu, Jehovah and Buddha. Although written before John Lennon's death, the song seems to belong as part of this remembrance suite.
All Those Years Ago (from the Somewhere in England album)
George Harrison previously recorded the music for the song, but then tailored the lyrics to serve as a personal tribute to his former Beatles bandmate John Lennon, following the latter's murder. Harrison makes reference to the Beatles song "All You Need Is Love" and the Lennon song "Imagine" ("you were the one who Imagined it all"). The recording also includes performances by ex-Beatles Ringo Starr, on drums, and Paul McCartney (along with his Wings bandmates, Linda McCartney and Denny Laine), who overdubbed backing vocals onto the basic track.
Only Love Remains (from the Press To Play album)
This Paul McCartney song written in 1986 may have been written about a lost love, or could also be another homage to the murdered John Lennon. It fits here as the ending of the requiem suite.
One of the final songs written by John Lennon, recorded by Lennon on piano as a demo while in Bermuda in 1980. The song was inspired from two different sources: from a poem penned by Robert Browning titled "Rabbi ben Ezra" and a song by Lennon's wife Yoko Ono called "Let Me Count the Ways" (which in turn had been inspired from a poem by Elizabeth Barrett Browning). Its poignant release after his death only serves to remind us of Lennon's use of irony in his art, writings, and music.