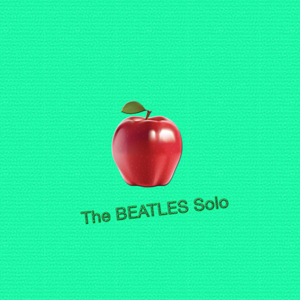 The Green Album includes music from all four Beatles and a wide range of music styles — from folk rock and pop to hard rock and reggae, and with more brass and swagger than ever before.
John Lennon alternates between sweet folk and raunchy hard rock.
George Harrison shows the influences of The Band, Eric Clapton, gospel music, and the smooth pop-jazz of southern California.
Ringo comes through with excellent renditions of an original song and a Lennon song.
Paul McCartney's contribution is far less than on the Red Album and doesn't even appear on sides 5 and 6 due to his work with Wings, but includes the hit "Another Day" and excellent Beatles-era songs like "Heart of the Country" and "Back Seat of My Car".
Here are the sides in Apple Music/iTunes, and in Spotify:
Apple Music playlists:
Side 1 | Side 2 | Side 3 | Side 4 | Side 5 | Side 6
Spotify playlists:
---
Sources
| | | |
| --- | --- | --- |
| Definitive biography of John Lennon: | Definitive critique of John Lennon: | An insider (Barry Miles) biography of Paul McCartney: |
| The authorized Paul McCartney biography by Philip Norman: | George Harrison's own autobiography I Me Mine: | George Harrison's autobiography of the Dark Horse years: |
| Biography of Ringo Starr: | George Harrison music analysis: | Olivia Harrison's biography: |
Other:
Paul McCartney: Recording Sessions (1969-2013). A Journey Through Paul McCartney's Songs After The Beatles
Being John Lennon: A Restless Life
Books by John Lennon (including lyrics and songbooks)
Liner Notes
The Sixties decade was truly over. By 1974 the U.S. had finally made peace with Vietnam, Nixon had resigned the presidency, and the radical leftists were in disarray or had disappeared. By 1978 everyone had become aware of ecology in the aftermath of the 1970s energy crisis, the New York Blackout, and the Trans Alaska Oil Pipeline. During this period the first Star Wars movie appeared, George Foreman and Muhammad Ali had fought the "Rumble in the Jungle", Elvis died, and the Clash made their first record.
The "Green Album" is full of promise and Green Revolution values, with its focus on spirituality and ecology. Harrison takes the lead with songs about the material world, peace on earth, and what we value. Lennon is introspective and consumed by love and mind games. McCartney sings rhapsodic about the great outdoors. The music fits in perfectly with the time period, 1973-1978, and with the "greening of America" effort to create a "nutopia".
While each Beatle used backing musicians, many of them were the same as the previous album, such as Eric Clapton, Nicky Hopkins, Klaus Voormann, Bobby Keys, Billy Preston, and Gary Wright. Spouses Yoko Ono and Linda McCartney joined some of the choruses. And while George Harrison and Ringo Starr often played on John Lennon recordings, the Green Album includes "I'm the Greatest" (penned by John and sung by Ringo) with three of the four Beatles playing on it. The mixing of horns, sitars, synthesizer, and other exotic instruments echo the experimental periods of the Beatles earlier career.
Spiritual and metaphysical awakenings abound throughout the album as the Beatles learn about women's liberation, truth, and ecology. Green symbolizes both the Green Movement and green money.
In the midst of these mind games, the bickering continues. Paul complains about John's negative quotes in the press in "Dear Friend". But John has the last word with "How Do You Sleep?" — recalling Sgt. Pepper, "Yesterday", and Paul's major contribution to this album, "Another Day" (with a stinging guitar solo by George). 
Meanwhile George, the "Dark Horse", revisits "While My Guitar Gently Weeps" with a sequel, "This Guitar (Can't Keep from Crying)", supposedly in response to the criticism he received during and after his 1974 North American tour, but could also be read as a rebuke to both John and Paul for their fighting. Jesse Ed Davis plays the weeping guitar in Eric Clapton's place. Davis also played on some of John's songs, including "What You Got" and "Nobody Loves You (When You're Down and Out)".
Eric Clapton also shows up, ripping apart "Art of Dying" with his Cream-era wah-wah pedal, and continuing to provide the Derek and the Dominos Spector-inspired wall of sound, this time on "Let It Down".
The near absence of Paul on this album is in keeping with the times. The fantasy here is that while the other Beatles also worked on solo projects, Paul's solo project became Wings, a band in its own right. Wings was more of a partnership between Paul, Linda McCartney, and Denny Laine, and created its own sound. I have therefore moved Wings hits and songs to a different fantasy album — with the exception of "Let Me Roll It" which is so obviously inspired by John. 
I used the same rationale to move John-and-Yoko duets to a different fantasy album. John continues in a political vein with songs like "Give Me Some Truth" and "Woman is the Nigger of the World", and provides the last word of hope and yearning with "#9 Dream".
Side 1
The album's opener, "Living in the Material World", captures the zeitgeist of the 1970s with stinging irony, using keyboards and drums directly influenced by Bob Dylan and The Band. George sings what may be the shortest and best description of their "fab" years ("Ritchie" is Ringo, whose real first name is Richard):
Met them all there in the material world

John and Paul here in the material world

Though we started out quite poor

We got 'Richie' on a tour

Got caught up in the material world
A rousing introduction to the green decade. But what if you're crippled inside? McCartney's "Another Day" is mocked later in the album ("How Do You Sleep?"), but here is followed by Lennon's angry rant for truth. Harrison ends the side not wanting to wait too long.
Harrison is given the nod to start the album, and he delivers a rocking The Band-like excursion with Ringo, who sounds like a hyped-up Levon Helm, and Nicky Hopkins, who plays on all of the Harrison and Lennon songs on this side.
John Lennon was influenced by country music, and this is Lennon's own spin on country rock, complete with honky-tonk piano.
Rod Linton – acoustic guitar
John Tout – piano
Steve Brendell – upright bass
The song was originally written and demoed in 1968 after sessions for the album The Beatles. George Harrison contributed guitar that echoes White Album songs "Julia" and "Happiness Is a Warm Gun".
The song was written and previewed during the Beatles' Let It Be sessions in 1969. David Spinozza plays the electric guitar and would eventually also contribute also to Lennon songs.
Give Me Some Truth (a.k.a. Gimme Some Truth)
Work on the song began as early as January 1969 during The Beatles' Get Back sessions. Harrison provides a blistering slide guitar.
George Harrison wrote "Don't Let Me Wait Too Long" in 1971–72. 
Goodnight Vienna (It's All Down To)
An up-tempo John Lennon composition for Ringo. Features John Lennon on opening count-in and piano, and Billy Preston on clavinet.
Side 2
Lennon is back to shocking the fans, but this opener has the ring of truth. McCartney is carrying, Harrison is letting it all down. McCartney broods on a house in the country, and Harrison broods over the art of dying. Lennon has the last word, shouting his love for Yoko.
Woman Is the Nigger of the World
A song written by John Lennon and Yoko Ono. The phrase "woman is the nigger of the world" was coined by Yoko Ono in an interview with Nova magazine in 1969 and was quoted on the magazine's cover. Featuring Elephant's Memory (EM).
Paul McCartney originally recorded the song accompanied by just his acoustic guitar during the London Town sessions in 1977. In December 1977, he overdubbed orchestral strings and he also overdubbed his own playing of an electric guitar using a Gizmo. This would have been the most recently recorded song on the album. 
George Harrison wrote the song in 1968 and offered it to the Beatles in January 1969 for inclusion on what became their Let It Be album (1970), but it was rejected then. 
George Harrison began writing the song in 1966.
Lennon began writing the song in 1968 during the Beatles' visit to India, but wasn't fully completed until the sessions for Imagine three years later.
Goodnight Vienna (It's All Down To) Reprise
Side 3
Lennon starts the side abruptly, as if the song had already started before the recording. Mind games, it's so hard, but McCartney's reply, let me roll it to you, sounds like a parody of a Lennon song. Harrison wants love and peace on earth, Lennon is apologizing, and McCartney makes love in the back seat of his car.
This song, which was begun in 1969 and can be heard in the Beatles' Let It Be sessions, was originally titled "Make Love, Not War". Another song, "I Promise", contains the melody that would later be featured on "Mind Games".
John Lennon plays a crunching rhythm guitar. The saxophone was played by King Curtis who played on many jazz and pop recordings of the 1950s and 1960s, including The Coasters' 1958 hit "Yakety Yak".
Paul McCartney's song title was inspired by a quote from George Harrison's "I'd Have You Anytime". Some critics saw the song as a pastiche of John Lennon's sound, particularly McCartney's guitar riff and the use of tape echo on the vocals. Featuring the band Wings.
Give Me Love (Give Me Peace on Earth)
One of George Harrison's most popular songs and features a series of much-praised slide-guitar solos from Harrison.
Aisumasen is a slightly corrupted version of the formal term aisumimasen, which means "I'm sorry" in Japanese.
Paul McCartney first presented this composition for The Beatles' consideration during the Get Back rehearsals on 14 January 1969 at Twickenham Film Studios in London, but the album was aborted before anything could be done with the song, which eventually did not make it onto Let It Be either.
Side 4
Lennon knows all about sharing and guilt, while Harrison's guitar can't keep from crying as he answers his critics — and note that Jesse Ed Davis plays lead guitar on different Harrison and Lennon songs. McCartney is mad at his "dear friend" Lennon, and Lennon is caustic in his assessment of McCartney's career in "How Do You Sleep?" although the song was written before the Beatles breakup and features a rousing Harrison slide guitar. Harrison, though is voice is gone from touring, still comes through as the dark horse with a new, jazzier sound. Lennon ends the side with another anthem for the world: free the people, now.
This Guitar (Can't Keep from Crying)
George Harrison wrote the song as a sequel to his popular Beatles composition "While My Guitar Gently Weeps" in response to the personal criticism he had received during and after his 1974 North American tour with Ravi Shankar, particularly from Rolling Stone magazine. The recording features guitar solos played by Harrison and American musician Jesse Ed Davis.
Paul McCartney admitted that "Dear Friend" was written about John Lennon. He has never played this song in concert.
John Lennon wrote "How Do You Sleep?" in the aftermath of Paul McCartney's successful suit in the London High Court to dissolve the Beatles as a legal partnership. After it was released, Lennon took this back: "It works as a complete song with no relation to Paul. It works as a piece of music. I started writing it in 1969, and the line 'So Sergeant Pepper Took You By Surprise …' was written about two years before anything happened."
Bring On The Lucie (Freda Peeple)
The song dates from late 1971, starting out as little more than a chorus, after John Lennon acquired a National guitar. 
A three-second silent track by John Lennon. The conceptual country Nutopia had been announced by Lennon and Ono in a press release issued on 1 April 1973, and at a press conference the following day. The name was inspired by Thomas Moore's book Utopia, published in 1516, which translated from modern Latin meant 'no place'. Nutopia too had no place, symbolised by a white flag, and the national anthem was without sound. 
Side 5
Lennon starts this side with some common sense: you don't know what you got until you lose it. But wherever you are, you are here (with Sneaky Pete on pedal steel). Harrison reminds us that it's what you value that is important, and Lennon reinforces his valuable love for Yoko: out of the blue, she came to me. The side ends with two blues numbers, with Starr's featuring Harrison on slide, and Lennon's featuring Jesse Ed Davis on lead guitar.
John Lennon: vocals, guitar
Nicky Hopkins: piano
Jesse Ed Davis: electric guitar
Eddie Mottau: acoustic guitar
Ken Ascher: clavinet
Klaus Voormann: bass guitar
Arthur Jenkins: percussion
Jim Keltner: drums
Bobby Keys, Steve Madaio, Howard Johnson, Ron Aprea, Frank Vicari: horns
One of Lennon's most heartfelt, plaintive and poetic love songs. Its title was taken from an art exhibition he had held at the Robert Fraser Gallery in London in July 1968. The exhibition had been publicly dedicated to his then-girlfriend Yoko Ono: "To Yoko from John, with love".
John Lennon: vocals, guitar
David Spinozza: guitar
Peter E 'Sneaky Pete' Kleinow: pedal steel guitar
Ken Ascher: keyboards
Gordon Edwards: bass guitar
Jim Keltner: drums
Something Different: backing vocals
The lyrics in the song are in reference to Harrison paying drummer Jim Keltner with a Mercedes 450 SL, in lieu of financial payment, for playing on his 1974 Dark Horse Tour.
"Out the Blue" moves through several musical genres, starting with a gentle, melancholy acoustic guitar and moving through gospel, country and music portions.
Ringo Starr wrote this song and George Harrison produced the recording. The title for the song was inspired by English singer-songwriter Marc Bolan. The song features a prominent slide guitar part by Harrison.
Nobody Loves You (When You're Down And Out)
Lennon recorded an acoustic demo as early as October 1973. The title comes from the 1923 blues song "Nobody Knows You When You're Down and Out," which had been covered by Eric Clapton with Derek and the Dominos in 1970.
Side 6
This side brings all the craziness of the mid-1970s to a close, from the cracker-box lifestyle to living one day at a time in love. Bless you, world of stone (in which Harrison drops the role of the far east avatar), and Lennon's number 9 dream end the album on high notes, emphasizing hope and practical living. At the end, in an ironic Beatle-like twist on "With a Little Help From My Friends", Starr sings Lennon's song about being the greatest with both Lennon and Harrison on-hand.
George Harrison wrote this song inspired by the late comedian Lord Buckley when Harrison visited Buckley's old Los Angeles home, which he called "Crackerbox Palace".
John Lennon wrote this love song for Yoko Ono, from whom he was separated at the time. In an interview he said "In a way, it's about Yoko and I, and in a way it's about a lot of couples or all of us who go through that, whatever it's called, love experience. You know, the way love changes, which is one of the surprises of life that we all find out: that it doesn't remain exactly the same all the time, although it's still love."
John Lennon: vocals, acoustic guitar
Jesse Ed Davis: electric guitar
Eddie Mottau: acoustic guitar
Ken Ascher: piano, Mellotron
Klaus Voormann: bass guitar
Arthur Jenkins: percussion
Jim Keltner: drums
John Lennon wrote this song also about his relationship with Yoko. In an interview he said, "Well, that's just a concept of life, you know. How to live life. It was Yoko's idea for me to sing it all falsetto." This second-to-last Lennon tune on the album is a homily to his fans, to live one day at a time, and to recognize the hopeful joy of being in love.
John Lennon: vocals, guitar
David Spinozza: guitar
Peter E 'Sneaky Pete' Kleinow: pedal steel guitar
Ken Ascher: keyboards
Michael Brecker: saxophone
Gordon Edwards: bass guitar
Jim Keltner: drums
Something Different: backing vocals
George Harrison wrote this gospel-like song in 1973 but recorded it two years later. Because of its context when he recorded the song, these lyrics serve as an abdication by Harrison of his role as an avatar for Eastern mysticism. David Foster contributed the piano part that dominates the track.
The song and the phrase repeated in the chorus, "Ah! böwakawa poussé, poussé", came to John Lennon in a dream; the phrase has no specific meaning. The number 9 has always fascinated him. Fittingly, it is Lennon's last tune for the album.
This song was written by John Lennon for Ringo Starr. It has that elusive quality of an album-ending Beatles tune, and the ironic pomposity of the rock star mindset, reminiscent of "A Little Help From My Friends" but with the opposite meaning. With Starr, Lennon and George Harrison appearing on the track, it marks the only time that three former Beatles recorded together between the band's break-up in 1970 and Lennon's death in 1980. News of Starr, Lennon and Harrison working together led to heightened speculation in the press that the band might re-form. The presence on the recording of bassist Klaus Voormann, as a supposed stand-in for Paul McCartney, created a line-up that the press had dubbed the Ladders since 1971. The song was produced by Richard Perry and also includes musical contributions from Billy Preston.