The following are 10 albums that made a real impact on me as a teenager.
Sgt. Pepper's Lonely Hearts Club Band by the Beatles
Not actually the best Beatle album, but a psychedelic-pop explosion. I was 12 at the time.
For Beatles facts, outtakes, and Beatles Solo fantasy albums, see my Beatles Time Capsule.
2. Pet Sounds by the Beach Boys
Pet Sounds by the Beach Boys
Again, 12 years old. The genius of Brian Wilson as he deftly melds pop, rock, folk, and orchestral music. For more about Brian and his Smile album that followed this, see Surf's Up! The Beach Boys Smile Sessions.
Blows Against the Empire by Paul Kantner and Grace Slick as Jefferson Starship (first version)
This Paul Kantner/Grace Slick solo project enthralled me at age 15, a concept album that brought psychedelic folk-rock to its apex. I even traveled to the first hippie enclave in Phila. looking for the Starship Foundation, ready to join the hijackers.
Together with David Crosby's first solo album, this collaboration (called the Planet Earth Rock'n'Roll Orchestra) forms the basis of my Fantasy Album Let's Go Together. The collaborators were the members of Crosby, Stills, Nash & Young, Jefferson Airplane, the Grateful Dead, Quicksilver, and Santana. The musicianship was over the top — this album lit up my interest in these bands and especially the Dead's Jerry Garcia who did some of his best-ever studio work.
Highway 61 Revisited by Bob Dylan
Although this came out in 1965, and I had been following Dylan records, I "revisited" this one around 1969, age 14, when my brother Frank left me his records as he left for college. I suddenly had a new appreciation for adult lyrics, for a historical narrative in song, for poetry, and even for the harmonica. Everyone played "Like a Rolling Stone" and my first band was no different. This album set the stage for my foray into Americana music. I also identified with the new Dylan, now in a motorcycle jacket and looking cool.
This is the best recording of Bob Dylan's transition from acoustic folk to rock. It was the basis of one of the first live concert bootleg LPs in rock: Royal Albert Hall 1966. For more about this record, see Bob Dylan: My Back Pages.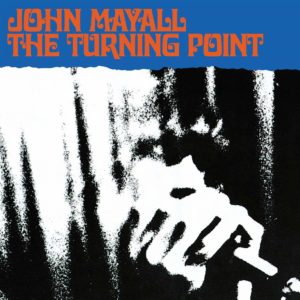 The Turning Point by John Mayall
Someday I'll do a list of harmonica songs that directly influenced my harmonica playing. But this list is about albums that made an impact on my life.
John Mayall's Turning Point album, from a 1969 concert at the Fillmore East, kicked me in the ass and launched my harmonica career. I was barely 15, in my first band, and "Room to Move" became my signature tune. I learned about breathing, pacing, and playing rhythm.
The album crossed the lines between protest folk, blues, and jazz, from the pioneer of the British blues and the mentor of Eric Clapton, Jimmy Page, and Jeff Beck. It was not a well known album, and it was probably not his best album, but it was a turning point for me.
6. Full House by Fairport Convention
Full House by Fairport Convention
Fairport Convention's Full House, released in 1970, came at the peak of the band's early career but unfortunately does not include Sandy Denny. The Liege and Lief album appeared the year before, but I didn't hear it until after hearing this one. The early band's singing reminded me of Jefferson Airplane and other bands that featured female singers. It wasn't until this album that I really noticed the instrumentation.
My ears opened up in 1970 at age 15 to all kinds of music, and besides rediscovering rock 'n' roll which had already happened a decade earlier, and sweltering through a blaze of acid rock, including the greatest rock guitarists of all time, I stumbled on my first taste of otherworldly music, in this case some Irish jigs, Scottish ballads, and authentic British-folk, that in some twisted way was as psychedelic as anything else I listened to at that time. It blew me away that this band had created a fantastic song around a dreary ancient rhyme, Sir Patrick Spens, that I'd had to read in English class.
Had I not fallen in love with this electric treatment of traditional music I probably would not have fully understood half of the Grateful Dead's repertoire. Fairport introduced Richard Thompson to the world, who inspired the next generation of singer-songwriters and roots guitar players. For me, this was the beginning of real instrumental music, in which the players interweave their parts seamlessly without showy soloing, creating a whole sound much fuller and greater than the sum of its parts.
The Band by the Band
The Band's second album turned me around (again). Released in 1969, coming on the heels of their ground-breaking Music From Big Pink, I began listening in earnest at age 15 (1970).
Big Pink had changed the minds of many of electric rock's pioneers (notably Eric Clapton), but this album demonstrated the kind of ensemble playing that I'd just learned how to listen to (with my previous entry Full House). The jangling honky tonk music of Rag Mama Rag captivated me. The horns, organ, and prickly guitar combined to form an entirely new sound, coupled with black-inspired soul singing and Americana songwriting.
These Canadian hicks and one Southern rhythm and blues cracker (they once considered calling themselves "The Crackers") had earned their skills working roundhouses and bars behind Ronnie Hawkins and had backed Bob Dylan as Dylan turned electric. Somehow they had absorbed everything from Sonny Boy Williamson and Muddy Waters to the Carter Family, Jerry Lee Lewis, Little Richard, Sam and Dave, and Motown.
This album was a signpost for me to double back and listen to music I hadn't heard before, including country blues, rhythm and blues, country and western, and even bluegrass.
8. Live Dead by the Grateful Dead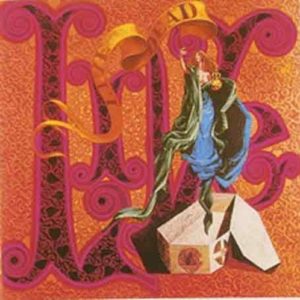 Live Dead by the Grateful Dead
I'm now 16, in 1971. When I first learned to really listen to instrumentation (thanks to the previous records), I was ready to appreciate the Grateful Dead's Live Dead in all its glory. This was, for me, the first live concert album that was recorded well enough to be like a studio album. This was a 2-LP set of a concert from 1969, one long jam across all 4 sides. I would stick with the Dead until the bitter end in 1995 and go to hundreds of concerts. I would join Dead-covering jam bands including the Graceful Duck and the Flying Other Brothers, and eventually play behind Bob Weir, Mickey Hart, and Billy Kreutzmann in various gigs after 1999.
I had started my journey into the Grateful Dead with Workingman's Dead, a perplexing experience because I thought the band was into improvisational music, and this was an album of songs in a country style. Of course the album was a ground-breaker, and the next one, American Beauty, was probably the most played album in my collection for several years. But these only prepared me for the full blast of the Dead in a live setting.
The version of "Dark Star" on this album has been a touchstone for enlightenment, a catalyst for mind expansion, and a host of other exuberant descriptions for a spiritual experience that can't be adequately described. There is a point where the music seems to take you into outer space, beyond even any notions of planets and aliens, and you felt like an anxious tripper at the gates of heaven, tasting the orange bitterness of the Strange Other World.
The album sleeve contained a booklet of song lyrics for "St. Stephen" which I used in my first ever short story, written for academic credit in my senior year in high school.
When I recorded this album on cassette for car use, I hit pause in order to turn over the record and continue the jam on the other side (the transition between "The Eleven" and "Turn on Your Love Light"). There was an ever-so-slight overlap in the fade-out of one side the fade-in of the other side. I was so proud that I had hit the resume button at precisely the right moment so that the jam continued without a trace of a pause.
This album boosted my listening skills to the point where I could finally understand improvisational jam. And it's no accident that around 1969, the shared the Fillmore stage with Miles Davis.
For a more complete description of my devotion to the Dead, see Grateful Dead: Unlimited devotion.
A Tribute to Jack Johnson by Miles Davis
Learning how to listen deeply to complex instrumental music is one of the supreme joys of my life.
1972, I was 17, looking for adventure. I had already experienced my first live Grateful Dead show at the Spectrum in Philadelphia. I dropped something and went to Jerry Garcia's Hooteroll? concert at Villanova University's Field House. Opening was a band I'd never heard of: John McLaughlin's Mahavishnu Orchestra.
McLaughlin, bald, in a white suit, strode onstage with a double-necked guitar. He launched into the band's repertoire from their first album, Inner Mounting Flame, and I was blown away. Thus began my journey into jazz. The album didn't quite have the peak experience I was looking for, not as jarring as the concert had been, but I was hooked. I searched for more McLaughlin, found Extrapolation (a magnificent album), and then this.
Released in 1971, Jack Johnson was the ultimate jazz-rock fusion album, featuring both McLaughlin and Billy Cobham from the Orchestra, with jazz keyboardists Herbie Hancock on one side and Chick Corea on the other.
This album led me to In a Silent Way, still my most favorite Miles Davis album. From that point I was hooked, buying piles of jazz records, some of which never made it to the CD format and are lost presumably forever.
But not this album! You can get a box set of the entire Jack Johnson sessions, and another one of the Silent Way sessions.
This is not the end of my early musical education. One more big one is coming…
Burnt Weeny Sandwich by the Mothers of Invention (Frank Zappa).
Cover art: By Source, Fair use
Frank Zappa is one of the most outstanding composers of the 20th Century.
Zappa's Hot Rats, released in 1969, was my first foray into his music. Many people know that record because it was his most accessible album at the time. It's a ground-breaking album, fusing jazz and rock, but it was the very next album, Burnt Weeny Sandwich, released in 1970, that knocked me over — especially the guitar solo in "Theme from Burnt Weeny Sandwich" which sounds like the March of the Toy People. (The guitar solo came from an unused extended version of "Lonely Little Girl" in the 1967 sessions for the We're Only in It for the Money album.)
Frank is joined by amazing musicians including most of the original Mothers, Don "Sugarcane" Harris on electric violin, and Lowell George on second guitar. A remarkable guitar virtuoso (number 22 on the list of the 100 greatest guitar players), Frank's concerts were monuments to musical precision — never a wasted note. (I met him in person in the mid-1970s in Boston during one of his tours, along with Captain Beefheart and George Duke.)
This album offers tightly arranged compositions in both studio and live sections, nearly all instrumental music. The centerpiece, "The Little House I Used to Live In", consists of several movements and employs compound meters such as 11/8 with overlaid melodies in 6/8 and 4/4. This is very complex music for a teenager (I was only 17). I'm sure it would never be considered the best Zappa album, but he made so much fantastic music it's impossible for me to name the best. This was the first one that grabbed my attention, and I became a Zappa fanatic afterwards, buying nearly every album before and after. It takes years to really listen to and understand his music. I was too young to appreciate his first album, Freak Out!, when it came out in 1966, so I was still listening to Zappa years after his releases. This man put out over 60 albums in his career!
Spinal Tap had amps with volume knobs that go up to 11. Therefore, I'm adding an 11th day.
My favorite bar band of all time: NRBQ so inspired me that I covered 3 of the songs from this album — Howard Johnson's Got My Hojo Working, Magnet, and Get a Grip — in my one-gig-only college band. I heard this in 1973, age 18.
Overall Copyright (c) 2020 by Tony Bove (for Rockument.com).