So said Bill Graham, who booked them into his Filmore Auditorium, Fillmore East, and Winterland venues countless times.
"Come and join the party every day," sang Jerry Garcia and his new band on their first original song, "The Golden Road to Unlimited Devotion", on their first album, Grateful Dead. The party was in the Haight-Ashbury of San Francisco from 1965-1967, and in other zones of the Bay Area including Palo Alto and Berkeley (1963-1965), and Marin County (1968-1972). Over its career spanning three decades, the Dead would extend its repertoire to include many different musical idioms, and would bring its wild carnival and entourage to cities across America and Europe, but throughout it all, the band's music would remain rooted in what was eventually called the "San Francisco Sound".
The music of the Haight-Ashbury is special for me. I grew up in the Sixties, and some of these artists and musicians were my heroes, in the true meaning of the term. They stuck their necks out and literally risked their lives as well as livelihoods, to conjure up this music. None are more important to me than the Grateful Dead. Insanity incarnate, even graceful. In their philosophies, in their pursuits, and in every aspect of their lives, they embodied the spirit and the soul of the Hippie Generation of the Sixties.
Since 1965, the Grateful Dead has been a focal point for acidheads and fringe lunatics, including geniuses, both inside and outside the counterculture. And while the Dead has a deserved reputation for putting out wildly psychedelic improvisational jams inspired in part by Thelonius Monk, Miles Davis, and John Coltrane, the band has always spoke with a distinctly Western American voice, distilled from American roots of folk, blues, bluegrass, and honky-tonk.
Videos
Who Were the Grateful Dead?
See Rockument's San Francisco 1960s playlist on YouTube for more.
Anthem to Aoxomoxoa

Anthem of the Sun
The Dead's sound, fury, and majesty, and its synchronicity with the psychedelic experience, is encapsulated in one hastily assembled album released in 1968, Anthem of the Sun. Mixing live performances and studio sessions together into a sound collage, the Dead invented a new vocabulary for polyrhythmic psychedelic jamming.

"We used to believe that every place we played was church," said Phil Lesh to David Gans, host of a syndicated radio show about the Dead. "But the core of followers is not the reason it feels like church; it's that other thing, 'it' [inspiration, grace, transcendence]."
Part of the unique experience of listening to Anthem is getting used to the polyrhythmic beat that, at the time, had never been heard in rock. The Dead had taken the classic ham-bone, which Bo Diddley called "the sanctified rhythm," and expanded it with two drummers (Bill Kreutzmann and Mickey Hart). According to biographer Dennis McNally, who interviewed Mickey Hart, Bo Diddley's 1-2-3-4 became fours and sixes. In Hart's words:
That was the first time that six was ever really swung in rock, was made into a rock and roll groove. Because I was adding the triple while Billy was playing the shuffle… So "The Other One" was more than a six, or more than an eight. It was the interlocking parts, and how they went together — the phrase was very often never completed. Remember, we were doing a lot of acid then, so linear progression was distorted. So we would just drop the one, we would get lost, we would call it the pulse. We would go on the pulse, so all of a sudden the pulse would lead us to a place, and we were completely lost, we didn't know where the original one was, so instead of struggling with the one, we would establish a new one, and that was the telepathy that me and Billy had.

The band wreaked havoc in the studio, causing the producer hired by Warner to flee the project, and leaving the Dead alone to produce their material. They combined sections of music from different shows in a collage approach, manually slowing down the capstan motor of a tape deck to synchronizing performances that were slightly off pitch. Phil Lesh added trumpet parts borrowed from Miles Davis' Sketches of Spain. "Caution" became an eight-minute rave-up devolving into feedback.
By this time the Dead had either opened for, or had opening for them, a wide variety of rock and R&B groups due to Bill Graham's insight in mixing up the types of performances at the Fillmore. The night Miles Davis opened for the Dead was inspirational not only for the Dead (and in particular, Garcia, who hung out with Miles), but also for Miles, who learned to appreciate the new all-white, all-spaced-out audience.
The experimentation led them back into the studio with Aoxomoxoa, an album ignored by the music industry but nevertheless ground-breaking in areas not yet discovered, such as electronica. It also marked the beginning of the fruitful songwriting partnership of Garcia and Robert Hunter.
Video
Grateful Dead on Playboy After Dark
In Jan. 1969, the Dead performed "Mountains Of The Moon" (from Aoxomoxoa) at the Playboy Mansion (this segment is from the Playboy After Dark DVD Collection. The clip begins with a conversation between Jerry Garcia and Hugh Hefner.
Dark Star Crashes, Pouring its Light into Ashes…

The Dead released Live Dead in 1969, and it would turn out to be among the great live albums of the history of popular music. Taken from shows in January, 1969 at the Avalon Ballroom and February at the Fillmore West, in S.F., the album presents the band's first transcendental jam sequence, "Dark Star" — "St. Stephen" — "The Eleven" — "Turn On Your Lovelight".
The version of "Dark Star" (Garcia/Hunter) on Live Dead has been a touchstone for enlightenment, a catalyst for mind expansion, and a host of other exuberant descriptions for a spiritual experience that can't be adequately described. Tom Constanten (T.C.), the keyboard player at that time and on that album, said that he remembers the series of performances and that they added up to a pretty good run. He didn't attach as much significance to that particular performance, except that it had been captured well on tape, but nothing he said could diminish the devotion that I still feel when I hear the piece. I remember feeling, telepathically in advance, the improvisational conversations among the players and where they would lead, before actually hearing them. There is a point where the music seems to take you into outer space, beyond even any notions of planets and aliens –and you felt like an anxious tripper at the gates of heaven, tasting the orange bitterness of the Strange Other World in a certain Jerry Garcia guitar solo… and reaching a peak with his finger-picking… There is no doubt that LSD provided a catalyst for this experience, but the music took it from one level, where you were just a puddle of convoluted imagination, to another level altogether. Some say it takes years of study to achieve the same effect. There are Deadheads that have been on the road with the band for years, even decades.
Jerry Garcia, Robert Hunter, and Bob Weir started out playing folk and bluegrass in the Palo Alto area, and hanging out in Kepler's bookstore in Menlo Park with Bill Kreutzmann, a drummer for a local R&B band. Garcia played in different "jug" bands in the early 1960s and also played traditional bluegrass, having traveled across the country to hear Bill Monroe and gather tapes of performances. Bob Weir was his understudy as a teenager, learning guitar.
Bass player Phil Lesh was classically trained and already writing avant-garde music for symphony orchestras. His meeting with Garcia coincided with the sudden rise of LSD use in the Bay Area, and both hung out with a mixed literary and beat generation crowd in a Stanford haven called Perry Lane, where Ken Kesey, researching his novel One Flew Over the Cuckoo's Nest at the local VA hospital, dosed everyone with acid chili. Lesh and Garcia would ultimately become close intellectual friends as well as musical conversationalists, bouncing ideas off each other, along with Robert Hunter, who wrote experimental poetry and eventually became the primary lyricist, writing songs with Garcia.
Organist Ron McKernan, a.k.a. Pigpen, had sung the blues and played blues harmonica for years before Garcia decided to team up with him and Bill to form a band, inviting Weir in and eventually recruiting Lesh. Of all the members of the band at that time, which was named the Warlocks, Pigpen was the most out-front vocalist and showman, leading the band through uptempo blues and R&B cover songs, and frequently closing down the show with trademark romps such as "Lovelight", "Midnight Hour", and "Hard to Handle".
"The Grateful Dead really owes most of its interest to serendipity — just the fact that everyone in the band is very different and has very different musical backgrounds." [Jerry Garcia, quoted in a 1987 interview by Steve Benes.]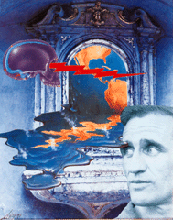 The musical melting pot that was the Warlocks played up and down the Peninsula south of S.F. and became the main attraction in a series of Acid Tests put on by Kesey and the Merry Pranksters, featuring Neal Cassady. The Acid Tests evolved into the Trips Festival, and the Warlocks changed their name to the Grateful Dead.
As they honed their chops playing R&B cover tunes and old-timey jug band and folk songs bracketing wild jazz-inspired improvisational excursions involving feedback and heavy air, the Haight-Ashbury grew around them as a community of like-minded freaks. Mickey Hart saw the band at the Straight Theater on Haight Street, sat in on drums, and joined the band that very night. Hart had studied drumming and had been a champion of marching-band drumming before discovering LSD and world music at around the same time. Lesh introduced him to the music of Ravi Shankar's tabla partner, Ustad Allarakha, and Hart took lessons from him, bringing a sense of Indian timelessness to the Dead's sound. Eventually Tom Constanten (T.C.), a keyboardist with classical training and compositional talent and a musical cohort of Lesh, would join them to round out the sound.
The Dead at the time of Anthem of the Sun and Live Dead was somewhat bipolar, mixing esoteric jazz-inspired improvisational runs with solid but spaced-out R&B dance music. According to Dennis McNally:
In effect, it was two bands. There was the elite jazz fusion ensemble that could play "Dark Star" for half an hour with hardly a vocal, bouncing off planets in space, dodging or causing cosmic storms in the heavenly spheres of "St. Stephen," going back out past Pluto for a lengthy foray into eleven-beat vibrations in "The Eleven," then gracefully bringing the gleaming titanium spaceship in for a landing. And out of the hatch would step Mr. Funk himself, Pigpen… This era of Grateful Dead music was at a profound peak in its evolution in part because Pigpen could close a show like nobody's business. 
At the close of the Sixties, the Dead expanded their repertoire with more lyrical songs, with Robert Hunter playing a more important role developing a lyrical voice for the Dead. Many of the narrators in Hunter's lyrics suited Garcia's voice perfectly, and represented a kind of Everyman, or as McNally described it, "the fundamental Grateful Dead character, a workingman, an underdog without pretense or slickness, part of the old gritty America." The songs frequently used card games as metaphors and gambling as an allegorical depiction of survival in our culture and times. It was a long strange trip, on a road for wandering souls, where bandits might steal your face right off your head, where the wolf, "600 pounds of sin" is leaning at your window, and all you can do is invite him in. But there was always a code of ethics expressed in the songs, a spirituality you could "believe if you need it, if you don't just pass it on," a lifestyle that helps you survive in a place where "one man gathers what another man spills."
Workingman's Dead and American Beauty 
The Dead's approach also expanded with excursions into western-style country music using acoustic guitars and Garcia on pedal steel guitar. The Dead were in a sense rediscovering their musical roots and, with Hunter, developed the material for Workingman's Dead with help from other like-minded musicians experimenting with western-style country, John "Marmaduke" Dawson and David Nelson, who went on to form New Riders of the Purple Sage (featuring Garcia on pedal steel).
The Dead were also influenced at that time by Crosby, Stills, and Nash, who were hanging out with them in Marin County and showed them how to stack vocal harmonies. Thus, Workingman's Dead, released in 1970, offered some of the finest Dead vocals ever recorded. It also included at least one song that was a return to form: "Easy Wind" was a Pigpen rave-up that included intense rock jamming and Bob Weir's first experiments with slide guitar, and "Casey Jones" (opening with the sound of someone snorting) turned into an audience favorite.
One of this album's tunes that haunts me to this day is "New Speedway Boogie" — Jerry Garcia's lasting impressions of the Altamont Speedway concert disaster in 1969 (depicted in the movie Gimme Shelter), and a fitting epilogue for any book on the Sixties with its "please don't dominate the rap, Jack, if you got nothing new to say" warning to future generations, and its refrain, "one way or another, this darkness got to give…"
The next album, American Beauty, was simply a masterpiece and the Dead's most accessible album at that point. Recorded at Wally Heider Studios in S.F., which had just been used for Crosby, Still, Nash, and Young's definitive album, Deja Vu, and Jefferson Airplane's Volunteers. It was recorded live in the studio without baffles, during a time of sorrow for both Garcia, who lost his mother, and Lesh, who lost his father. David Grisman joined the band on mandolin for "Ripple" and "Friend of the Devil".
Wally Heider's studio helped create some of the best music of the period during that time, with the Dead, the Airplane, Santana, and CSNY recording in different rooms. Garcia played pedal steel on CSNY's "Teach Your Children" and contributed to Airplane recordings, and musicians from all these bands contributed to Paul Kantner's Blows Against the Empire and David Crosby's If I Could Only Remember My Name. David Crosby once dubbed the entire group of musicians as the Planet Earth Rock and Roll Orchestra.
Garcia also created and produced his first solo album, Garcia, at Heider's, while the rest of the Dead were in the next room helping out with Bob Weir's solo effort, Ace.

 Skulls and Roses
The Dead's stylistic pendulum had swung from deep-space jams to country-tinged ballads and bluegrass-tinged dance tunes, and in 1971 it swung again, incorporating rockabilly and Fifties-era rock 'n' roll in the mix. Grateful Dead (Skull & Roses), or more properly known among Deadheads as Skullfuck (the title the band really wanted to use, but decided against using after receiving heat from Warner Bros. Records), offered a leaner, harder rock sound that made it the most accessible live album by the band at that time. Mickey Hart had left the band for a few years, and Pigpen was ill, so the band used a single drummer and Merl Saunders for some keyboards. The album included the perennial "Not Fade Away-Goin' Down the Road Feeling Bad" sequence and many other songs that became concert staples over the next two decades.
The swing back to more conventional musical forms was partly due to Garcia stepping out to play with others and being influenced by hearing himself play more conventionally with others. These included Hooteroll? with Howard Wales, a jazz-oriented improvisational keyboard player who played on American Beauty, and Merl Saunders, a jazz keyboard player who'd backed Dinah Washington and jammed with Miles Davis. Garcia's outside efforts eventually solidified into the Jerry Garcia Band, a permanent side-project, and Live at Keystone, Vol. 1 and Vol. 2 were recorded in Berkeley in 1973.
Garcia even had time to put together the ultimate bluegrass band, Old and In the Way, with Peter Rowan (who had played guitar with Bill Monroe and had co-founded Seatrain), David Grisman, John Kahn, and Vassar Clements, probably the most inventive bluegrass fiddler of his time. The group performed a dozen and a half club dates and a few concerts, along with a radio show, and released an album, Old & in the Way (two more CDs of the performances have been released as That High Lonesome Sound and Breakdown: Live Recordings 1973).
From that point on, the Dead seemed to borrow from multiple idioms, including their past glories (deep versions of "Dark Star"), R&B ("Good Lovin'" years after Pigpen was gone), fast country rock ("El Paso" and "Mama Tried"), bluegrass, folk, blues, and jazz. As Bob Weir told David Gans:
We go through those phases, where we'll borrow substantially from a given idiom and come up with our own translations of it. Then we'll get real inventive and come up with stuff that sounds reminiscent of almost nothing. Then we'll go through another phase where the stuff is reminiscent again of given idioms… We don't so much grow as molt through eclecticism.
In 1972 the Dead toured Europe and produced Europe '72, the most popular album to date. By this time the Dead were at the top of their game, and more instrumentally and vocally competent, having added Keith Godcheaux on keyboards and Donna Godcheaux vocals.
In an interview with a reporter at the time (described in McNally's biography), Jerry Garcia said:
"There's a sort of peak optimum, and right now we're at one of those peaks. We've got a lot of brand new material… that we've never recorded, in fact that's why we're recording these tours." [Garcia] discussed the Dead method of playing: "We remember how to play, each time, by starting with simple things, moving into more complex things, and then finally having built a kind of platform, then we sort of jump off it… a kind of continuity — from off the street to outer space, so to speak." And back again? asked the reporter. "Sometimes, but then sometimes we just hang out there."
Using a mobile recording unit, the Dead taped most of their shows on this tour. Predictably, the tour indulged in a circus-like atmosphere bordering on madness. Just about the entire Dead family went for the ride, caravan-style. Near the end, many of the crew and especially the sound recording crew were dosed, leaving many things (such as the recording) unattended. As the crewmember, named Wizard, describes the scene in McNally's biography: "[Garcia] looks up [in the middle of "Morning Dew"] and sees me and realizes the truck is empty. I nod, and he smiles! He's playing with this back to the audience, tears streaming down his face, the music playing the band, and the music recording itself. Ecstasy on every level." During the production of the album, Garcia ran into Wizard and said, "Hey, man, guess what? 'Morning Dew' is definitely on." Lowering his voice, "And no one was in the truck!"
The Dead's music has often been described as playing the band, rather than the band playing the music. "[Playing is] like being strapped to the back of a horse in the middle of a stampede — like being on the bring of collapse… I like to be as close to the brink as possible," said Garcia to McNally.
Deadhead audiences were aware that they were part of the show, and that the musicians were in many ways just like them, part of their culture and equally human (and possibly equally stoned), and the Dead always recognized this, and did not try to entertain, but rather to play as they would for themselves. Jams that were called self-indulgent by rock critics were considered flights of invention by the audience, which was attracted to the feelings of recklessness and abandon and the divine grace of a collective consciousness that musicians often associate with jamming. Mickey Hart described why this recklessness is needed:
I think that what we have that is required, if we're ever going to succeed musically at a given show, is a sense of daring, a certain recklessness. It takes daring to up in front of 20,000 people and not know what you're going to play… We're always looking for something else, something you don't find in rigid structures. That's why our music is always in a state of flux.
The recklessness of their lifestyles caught up with the band in the Seventies, as cocaine and alcohol abuse swept the entire music industry, including the Dead (nearly every major rock musician of the late Sixties faltered creatively and financially during this blizzard, which wiped out entire bands).
Earlier in their career, the Dead's crew and other Pranksters shared immense quantities of pot and LSD with the audience, forming a psychedelic bond that acted as a level playing field, in which the band are just part of the same community of people, just having a good time. This act of sharing was by itself a way to build community; as an audience member you could choose whether or not to partake. However, the practice ceased by the Seventies as law enforcement cracked down. The new Seventies intoxicants were not psychedelic and were consumed mostly backstage and in the audience with no sharing at all. The level playing field and community seemed to disappear.
Eventually the band decided to take a rest. Solo projects ensued, but in less than two years the band would regroup and play some of their best shows. During this time the Dead pioneered many of the community-building practices used today by bands, including maintaining a mailing list, starting a record company, and managing their own affairs. They also produced some of the finest music to be part of the Dead canon, including Wake of the Flood, The Grateful Dead From the Mars Hotel, Blues for Allah, and Terrapin Station.
By the Eighties, the Dead were a solid touring organization playing excellent music that spanned their entire career, restoring that sense of community, and looking and acting very much the same as they always had, which was somewhat of a relief to the audience that had followed them for so long.
Even so, they attracted an entirely new, younger audience, with members that would grow up to form jam bands. One reason was that the Dead, never fashionable in any sense, suddenly and briefly broke through to the mainstream listener with a Top Ten hit, "Touch of Grey" (from In the Dark). It was released at a time when the music industry was in the midst of yet another transition that provided a window of opportunity for alternative music, such as the Dead's, to break into popular radio charts.
The Dead carried the spirit of the Sixties counterculture through three decades of touring and a dozen more studio and live albums. The "hippies" lived on in the form of Deadheads, and one of the primary legacies of the Dead is its influence on a new generation of jam bands in the late 1990s and to this day, which have adopted improvisation as the basis for their music.
The jam band culture is closely modeled on the Dead caravan-like tours and the audiences exhibit the same social behaviors and carry on in much the same way as their parents (and in some cases, grandparents) did at Dead shows.
The Dead's music endures because it is so unique. No other band brought together jazz-inspired improvisational flights of fantasy and all of rock's root idioms — country, blues, folk, R&B — into a live performance art with such wide and sustained appeal. While the band itself disbanded after Garcia's death in 1995, the Dead organization has tried to meet its fans' insatiable demand with a great many releases of live shows from the vault — more music than was ever released during the band's career.
Jerry Garcia's passing was mourned around the world, even by world leaders, much the same way that John Lennon's passing was mourned. And yet, Jerry's words serve best to sum up the experience of what it was like to be in the Grateful Dead:
Synchronicity. There's a large element of what we do that we have no control over. We have to beg off from what's happening — it isn't us that's doing it, we're only like tools through which it's happening. And it's okay. We have faith… Our music is never counting. For us the One is always Now. In time — whether it's 7/4 time, 4/4 time, or whatever — we're always coming back to the One.
Links
Grateful Dead site and members:
Founders Jerry Garcia, Mickey Hart, Bill Kreutzmann, Phil Lesh, Pig Pen, and Bob Weir. Lyricists Robert Hunter and John Perry Barlow. Keyboardists Tom Constanten, Keith Godchaux, Brent Mydland, and Vince Welnick.
For my recommendations on Amazon, see below.
---
Overall Copyright (c) 1996-2018 by Tony Bove (for Rockument.com). Individual art, music, and video clips are copyrighted by their respective owners. Images by Alton Kelley and Tony Bove.