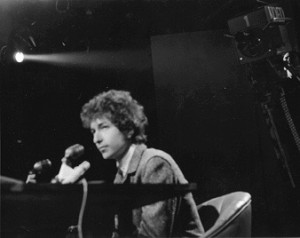 "Bob Dylan" Copyright (c) 1995 Grant Jacobs. Used by permission. From Haight-Ashbury in the Sixties! CD-ROM.
Recommended Sites:
Video: Bob Dylan – Live at the Newport Folk Festival
The Bootleg Series, Vol. 4: Bob Dylan Live 1966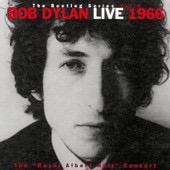 (Formerly known as The "Royal Albert Hall Concert" Bootleg)
This is the best recording of Bob Dylan's transition from acoustic folk to rock. It was the basis of one of the first live concert bootleg LPs in rock: Royal Albert Hall 1966. Referred to as "The Most Famous Bootleg Album Of All Time," this concert was actually recorded and performed on May 17, 1966, at Free Trade Hall in Manchester, England. (Confusion about it stems from the notoriety of the Royal Albert Hall stop on this same tour, which was attended by the cream of British pop-rock including the Beatles. Also, many mistaken references are made to Great White Wonder, the first Dylan bootleg LP, which was not this concert but rather an assortment of songs that would later surface as Dylan and the Band's Basement Tapes.)
On The Bootleg Series, Vol. 4: Bob Dylan Live 1966, you hear one of the finest acoustic set he ever performed up to that time, and then he comes out for the second set with the Band (then called Levon Helm and the Hawks, but Levon was absent for this tour, replaced by Mickey Jones). While most of the audience accepted Dylan's new music, there were also lots of jeers and heckling.
At one point, unruly members of the audience tried to halt Dylan's performance by clapping in hostile unison. You hear all the stomping, booing and the now-famous cry of "Judas" from one audience member, and Dylan's ironic retort: "I don't believe you. You're a liar!" Robbie Robertson, guitarist in the Hawks (the Band), muttered to Dylan, "Quit talking, Bob." Dylan turned his back to the audience and said to the band, right before launching into a magnificent version of "Like a Rolling Stone" with Garth Hudson on surreal organ: "Play it fuckin' loud!"
Bob Dylan's switch to electric rock at the Newport Folk Festival is often cited as a turning point, but the fact is that the sound system was not set up properly, and Dylan's voice could not be heard above the roar of the backup band (the Paul Butterfield Blues Band with Mike Bloomfield and Elvin Bishop). At first, the shouting from the audience was for more amplification of Dylan's voice, then for turning down the electric guitars. There was, however, a minority of audience members and performers who were upset at Dylan's "switch" from folk to rock. News of Dylan's hard time at Newport (preserved in the song "Rainy Day Women #12 and 35" — "Everybody must get stoned!") was global, and insults and angry shouts greeted him at subsequent shows for more than a year. Some say it was mostly folk purists who'd read about the Newport incident and joined the hate bandwagon. By the time Live 1966 was recorded the audience was clearly divided between folkies and rockers. The polarity of their response to Dylan's music actually increases the passion and intensity of the performances.
Bob Dylan's recruitment of the Hawks, with Robbie Robertson, Levon Helm, Rick Danko, Richard Manuel, and Garth Hudson, occurred during this period. Later known as The Band, they were playing roadhouses in Toronto, in the South, and when the call came in from Dylan, on the New Jersey coast. Robbie went to New York with Levon to check out Dylan, and the entire band joined Dylan for a set of shows in the U.S. After much booing and heckling, Levon decided not to go on the European leg of the tour, and Dylan recruited Mickey Jones. The lineup for the Live 1966 concert: Robbie Robertson, guitar; Rick Danko, bass; Garth Hudson, organ; Richard Manuel, piano; and Mickey Jones, drums.
The first song of the electric set, "Tell Me, Momma" (a Dylan original that has no studio version), sets the pace dramatically. "Baby, Let Me Follow You Down" is incandescent. "One Too Many Mornings" has the earliest recorded Band sound that would later be so prominent in Dylan and the Band's Basement Tapes. "Ballad Of A Thin Man" offers some of the most inventive organ-playing by Garth Hudson, with cutting edge singing and altered lyrics by Dylan. "Like A Rolling Stone" is simply magnificent. The CD includes other great songs and an excellent acoustic set.
The first CD is Dylan's solo acoustic set and features "She Belongs To Me," "Fourth Time Around," "Visions Of Johanna," "It's All Over Now, Baby Blue," "Desolation Row," "Just Like A Woman," and "Mr. Tambourine Man." The second CD features Dylan and the Hawks on "Tell Me, Momma", "I Don't Believe You (She Acts Like We Never Have Met)," "Baby, Let Me Follow You Down," "Just Like Tom Thumb's Blues," "Leopard-Skin Pill-Box Hat," "One Too Many Mornings," "Ballad Of A Thin Man," and "Like A Rolling Stone." Live 1966 comes in a deluxe slipcase containing a two-CD brilliant box and a stand-alone 56-page booklet containing many rare and previously unseen photos from the era and an essay by Tony Glover, whose friendship with Dylan extends back to 1960 on the University of Minnesota's Dinkytown folk scene. Live 1966 was mastered by Greg Calbi. The electric portion of the concert was mixed by Michael M. Brauer.
From the liner notes by Tony Glover:
… He appears in a check houndstooth "rabbit" suit and pointed boots in front of a 5 piece band with an electric guitar in hand, playing incandescent rock and roll… Dylan's voice is a velvet sneer as he shouts out the line "how does it feeeeeeel" and the performance rolls on with power, defiance and a sheer majesty rarely captured on tape. By the time the first so-called Royal Albert Hall bootleg came out, some 4 or 5 years later, the mythology was in place: a blues-tinged Woody Guthrie comes out of the midwest, moves to NY, writes some poetic topical songs that become the soundtrack for the civil rights and anti-war struggles, turns inward and begins doing existentially surrealistic visionary work, hooks up with a kick-ass rock band, barnstorms the US and the Euro-continent, ends 4 months of grueling touring with a triumphant concert, returns to the US, breaks his neck in a motorcycle accident, and retires into a 20 month seclusion. When he returns, it's as a vastly changed man, a bearded biblical poet, with acoustic parables from a whole other century. So what happened, and why were those people so angry? Therein lies a tale…
Bob Dylan's rise to stardom as a folk singer-songwriter is chronicled in various books and documentaries, but none as good as D. A. Pennebaker's Don't Look Back.