Latest News:

Rockument News of Yesterday

Jorma Kaukonen's Country Heart
Jorma was inspired by early-20th-century rural music long before he cofounded
Jefferson Airplane.
They Came in Through the Bathroom Window: More Beatles Tapes Seized by Police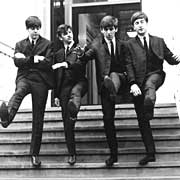 Another round of reel-to-reel Beatles tapes, believed to be stolen masters from Abbey Road and The Beatles (a.k.a. The White Album), were recovered by Australian authorities today in a raid.
The recovery was the second of its kind this year. On January 10th, British and Dutch police conducted separate raids in London and Amsterdam, uncovering 500 reel-to-reel tapes in the latter bust. Two British men were pinched in London and two Dutch men and a British man were arrested near Amsterdam for suspicion of theft and handling stolen goods. The latest raid resulted in the arrest of an unidentified man, who was later released without being charged.
According to reports, the Sydney tapes are thought to be either the original studio recordings for those two albums, or professionally made copies. Some album artwork was also discovered.
The fruits of the Amsterdam raid included tapes of the sessions that would eventually become the band's Let It Be album, along with hours of unissued music and conversations. Both the Amsterdam tapes and the Sydney tapes were thought to have been stolen from Abbey Road Studios, more than thirty years ago.
Source: Rolling Stone News, ANDREW DANSBY
(February 14, 2003)
PREVIOUS STORY:
LONDON (AP) -- Police appear to have recovered about 500 original Beatles tapes that were stolen in the 1970s, including some never-released tracks, during raids Friday on members of a piracy racket in England and the Netherlands. British police said the tapes were "priceless." Dutch police, who found the tapes in the Netherlands, agreed, but said analysis of the material was ongoing.
"We're investigating whether they really are the originals, but it appears to be so," prosecutor spokesman Robert Meulenbroek said in Amsterdam. "There are about 500 tapes, so there's quite a bit to research." The tapes soon will be turned over to British authorities, he said.
Police arrested five people in raids in England and in Holland, after an investigation that began about a year ago. The suspects' names were not immediately released.
The tapes contain songs, including "Get Back," for an album the Beatles planned in 1969. The project was shelved and some of the songs instead became part of the "Let It Be" album. The rest of the tapes disappeared.
The federation and London police first identified suspects who were thought to have been involved in the theft and handling of the tapes. Further inquiries across Europe led to the joint operation by British and Dutch police. Two British men were arrested in west London and two Dutch men and a British man were arrested south of Amsterdam, where Dutch and British police were working together. "This is a good example of how an international multiagency approach by both the private sector and police agencies can combat offenses of this nature," Detective Inspector Paul Johnston said in London.
The material disappeared shortly after the 1969 Beatles sessions, which attempted a more back-to-basics approach to recording after the tensions of the 1968 "White Album." They met in the Twickenham area of London to rehearse, rather than Abbey Road, where they usually recorded. Continued problems within the band saw Harrison briefly quit during that period. The recovered reels are believed to contain dozens of entire songs, as well as snippets of abandoned tracks. Along with new songs, the Beatles ran through earlier tracks for old time's sake. "Get Back" originally was written to satirize negative attitudes toward immigration in Britain in the late 1960s. In early versions, it was referred to as the "Commonwealth Song" and "No Pakistanis."
Originally published Saturday, January 11, 2003.
-- Mansfield News Journal and other sources
Editor's Note: Many of these tapes were duplicated and released on bootleg vinyl and eventually CD. I have heard all of the songs mentioned in this article on such bootlegs, which have been floating around the collector community since the 1970s.
Review: Jorma Kaukonen's Country CD
Jorma's new CD, Blue Country Heart

Jorma Kaukonen was inspired by early-20th-century rural music long before he cofounded Jefferson Airplane as lead guitarist in 1965 (and Hot Tuna some years later). Included here are gems, both familiar and obscure, by the likes of Jimmie Rodgers, the Delmore Brothers, Jimmie Davis, Cliff Carlisle, and other country musicians who were clearly inspired by their blues cousins. Backed by the Nashville All-Stars, a supersonic string band comprising bluegrass masters Sam Bush (mandolin), Jerry Douglas (Dobro), Béla Fleck (banjo), and Byron House (stand-up bass), all playing on vintage 1920s and '30s acoustic instruments, Kaukonen revives and vividly reinterprets these blues-drenched country classics for a new generation of listeners.
I've heard him perform some of this material live, over the summer of 2002. The CD was recorded in Nashville, but there are lots of photos that seem to be of Jorma's Fur Peace Ranch in rural Ohio, where he holds guitar workshops. The music has that wonderful front-porch-jam-among-friends feel. It also provides a glimpse into the black-inspired white country blues of the period that helped give birth to rockabilly and early rock 'n' roll.
-- Tony Bove
George Harrison Passes Away
George Harrison died at 1:30 p.m. (2130 GMT) on Thursday, November 29, 2001. Stars and fans around the world are mourning the death of the former Beatles guitarist, Traveling Wilburys member, and solo artist, who died aged 58 after a long fight against cancer.
His family issued a statement saying: "He left this world as he lived in it, conscious of God, fearless of death, and at peace, surrounded by family and friends. He often said, 'Everything else can wait but the search for God cannot wait, and love one another.' He died with one thought in mind -- love one another," friend Gavin De Becker told The Associated Press, adding that Harrison's wife, Olivia Harrison, and son Dhani, 24, were with him when he died.
George Harrison "All Things Must Pass" Web Site
George Harrison: Albums, Songs and Lyrics Web Site

Paul McCartney Plays the Cavern Club
Along with John Lennon and George Harrison, Paul McCartney was part of a band known as the Quarrymen, which played in a Liverpool dive known as the Cavern Club back in 1958. They played there again a bit later as the Beatles, then the band -- and the club -- faded into history. On Tuesday night, Dec. 14, McCartney will return to a cozy new Cavern Club (built on the site of the original) for a solo concert that he calls "a nod to the music that has always -- and will ever -- thrill me." Only 300 lucky souls can actually see him play
However, for you Webmainiacs, the gig will be Webcast, beginning at noon on Tuesday, Dec. 14, 2000, PST. (I spent some time in Liverpool in 1994 and went to the remodeled Cavern Club in the Cavern Walks section of Liverpool -- a combination Beatles shop and museum -- and found the new Cavern Club to be nearly a replica of the original, down to the sweaty cellar walls and tiny stage. On a Friday night, a new Liverpool band was playing and the place was rocking!)