Backstage Report
The defeat of the CDA means that site owners like us won't be thrown in jail. However, you should be aware that sites are blocked for a variety of reasons besides pornography. It is speech that is blocked, not porn.


The Bove and Rhodes Backstage Report Archives
June 4, 1997: Online Games and VCs: Shoot Out the Nets
In case you haven't noticed, the next big thing for investors and the computer and Internet industries is online multiple-player games. The problem is, of course, that business models matter more than content.
Mar. 27, 1997: Direct3D vs. OpenGL: Which is Built to Last?
The problems involved with making 3D environments run fast on PCs have not been solved, so expect this proliferation of weird solutions to continue for a while.
Mar. 9, 1997: Sitting on Top of Internet World
What are the cool parties and technologies at Internet World next week in Los Angeles? Tony does his homework before going.
Feb. 5, 1997: The Second Web
VRML 2.0 is the next big platform for web development, and it will build over the next few years to bring us more 3D worlds.
Jan. 13, 1997: Born a Gamblin' Man
Gambling sites and the furor they are causing among law enforcement agencies.
Jan. 4, 1997: Web Content Sites: Down in the Flood
Recent failures in the content site business, and update on Apple.
Dec. 25, 1996: Eyes of the World on Apple
Steve Jobs is back, and NextStep is Apple's next operating system.
Archives of the Inside Report on New Media (a.k.a. Bove & Rhodes Inside Report)
Some of the best articles from the newsletter edited by Tony Bove and Cheryl Rhodes from 1986 through 1994 -- the first newsletter about the topic now known as multimedia, a.k.a. "new media" technologies.



The Revolution Will Not Be Interactive
An essay for the Spotlight 96 Precedings about this year's theme for the executive conference on interactive media, which is "light, not heat."

Learn to Duck #1: Should I Stay or Should I Go?
The Graceful Duck offers a rant about interactive media conferences, with short answers for all those conference topics (so that you don't have to attend).


Articles by Guest Writers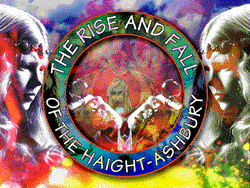 Writings on topics ranging from the Summer of Love to Jerry Garcia and Rick Griffin.

Elegy for Jerry Garcia
A poem by Allen Cohen written on Aug. 9, 1995. Jerry, may the four winds blow you safely home.

A four part history of the San Francisco Oracle by one of its founders, Allen Cohen.
Thoughts on the Summer of Love by Allen Cohen.
Elegy For Rick Griffin by Allen Cohen.