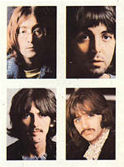 The Name "Beatles"
So how did they get the name? An article that appeared in Mersey Beat and penned by John Lennon from July of 1961 might help to clear it up:
BEING A SHORT DIVERSION ON THE DUBIOUS ORIGINS OF BEATLES Translated from the John Lennon
Many people ask what are Beatles? Why Beatles? Ugh, Beatles, how did the name arrive? So we will tell you. It came in a vision — a man appeared in a flaming pie and said unto them "From this day on you are Beatles with an A." Thank you, Mister Man, they said, thanking him.
Pages
Favorite Beatles Facts: Anecdotes and mysteries from the dustbin of history.
Favorite Outtakes: A selection of the best unreleased material, and highlights of the Beatles Anthology and Lennon Anthology box sets.
Stuart Sutcliffe: The missing Beatle who died tragically before the band took off.
The Fantasy Red Album
: What if the Beatles had stayed together? This is my fantasy of what the next double-album from the Beatles would have been after Let It Be, using the Beatles members' solo albums for versions of songs. Try to imagine it is the Fall of 1972…
Official Sites
Beatles, Paul McCartney, John Lennon, George Harrison, Ringo Starr, Apple Records, Abbey Road Studios
Beatles Stuff
Like any museum, this one has a store! Please patronize my affiliates to help keep this site going. For Beatles-related books, music, and merchandise, including sales and featured items, see the Rockument Beatles Shop.
---
Overall Copyright (c) 1996-2017 by Tony Bove (for Rockument.com). "John Lennon at Cow Palace" used by permission from Lisa Law. Copyright (c) 1995 Lisa Law (to contact her by email: pachamama@cybermesa.com). (Image appeared in Haight-Ashbury in the Sixties! CD-ROM by Rockument.)