Features
Origins: Where the name came from.
Favorite Beatles (a.k.a. "Fab 4") Facts: Anecdotes and mysteries from the dustbin of history.
Favorite Outtakes: A selection of the best unreleased material, and highlights of the Beatles Anthology and Lennon Anthology box sets.
Stuart Sutcliffe: The missing Beatle who died tragically before the band took off.
Beatles Solo – The Fantasy Red Album:
 What if the Beatles had stayed together? What if the Beatles had buried their differences in 1970, and allowed the evolution of their musical styles to come forth, but within the framework of a Beatles album? This is my fantasy of what the next double-album from the Beatles would have been after Let It Be, using the Beatles members' solo albums for versions of songs.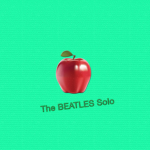 Beatles Solo – The Fantasy Green Album:
 The Green Album features hits from all four Beatles and a wide range of music styles — from folk rock and pop to hard rock and reggae — to make the ultimate sound of the 1970s, with more brass and swagger than ever before. Spiritual and metaphysical awakenings abound throughout the album as the Beatles learn about women's liberation, truth, and ecology.
Beatles Solo – The Fantasy Blue Album:
 The Blue Album, released in the immediate aftermath of John Lennon's murder, echoes the turmoil of the times as America swung to the right, and represents a musical transition from happier times to deeply blue circumstances. The Beatles were content to create smooth, well-crafted music with a healthy dose of back-to-the roots rock 'n' roll and ballroom dancing.
Origins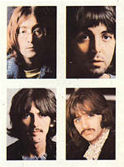 The Name "Beatles"
So how did they get the name? An article that appeared in Mersey Beat and penned by John Lennon from July of 1961 might help to clear it up:
BEING A SHORT DIVERSION ON THE DUBIOUS ORIGINS OF BEATLES Translated from the John Lennon
Many people ask what are Beatles? Why Beatles? Ugh, Beatles, how did the name arrive? So we will tell you. It came in a vision — a man appeared in a flaming pie and said unto them "From this day on you are Beatles with an A." Thank you, Mister Man, they said, thanking him.
My Favorite Books about the Beatles (on Amazon)
| | | |
| --- | --- | --- |
| Definitive, by the Beatles: | Hunter Davies (definitive lyrics): | Details of recording sessions by Mark Lewisohn: |
| Chronicle of Beatles lives by Mark Lewisohn: | All about producing the Beatles by George Martin: | The inside story of Apple by Peter Brown: |
| Definitive Beatle biography by Philip Norman: | Book 1 of the trilogy by Mark Lewisohn: | Beatles studio engineer Geoff Emerick: |
Other interesting books about the Beatles:
A Day in the Life: The Music and Artistry of the Beatles
Beatles Sheet Music Collection
The Beatles Recording Reference Manual: Volume 3: Sgt. Pepper's Lonely Hearts Club Band through Magical Mystery Tour (late 1966-1967)
Beatles Gear: All the Fab Four's Instruments from Stage to Studio
The Longest Cocktail Party — Humorous anecdotes from the Apple years
Official Sites
Beatles, Paul McCartney, John Lennon, George Harrison, Ringo Starr, Apple Records, Abbey Road Studios
---
Overall Copyright (c) 1996-2018 by Tony Bove (for Rockument.com). "John Lennon at Cow Palace" used by permission from Lisa Law. Copyright (c) 1995 Lisa Law (to contact her by email: pachamama@cybermesa.com). (Image appeared in Haight-Ashbury in the Sixties! CD-ROM by Rockument.)