What is it about Trains and the Blues?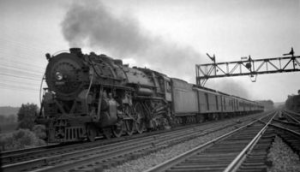 The sound of a train, roaring through town, the mournful whine of the lonely whistle at night. Most of the songs about trains are also about hard times, lost chances, running away from failures. Some are also melancholic, about a love coming or going, or about going back home.
There are almost as many train songs in rock 'n' roll as there are love songs. This playlist focuses on songs that remind you of the sound of a train, which is mostly a bluesy rock 'n' roll sound.
For more information on the history and tradition of railroad-inspired music, from folk to classical, visit Philip Pacey's Music and Railways project. "This Web page provides a chronological list of pieces of music inspired by or evoking railways, with a note of available recordings known to the compiler."
For songs that are actually sung on trains, check out the Official Train Singer on the California Western Railroad's Skunk Train in Willits, CA, who has conducted hundreds of requests by the Skunk Train passengers since 1989.
---
Video: The British folk-rock-jazz group Pentangle performing "Train Song" on the BBC in 1970.
"All Aboard" (McKinley Morganfield) by Muddy Waters

My favorite harmonica song, featuring two harmonicas — a chromatic and a blues harp. Blues and rock godfather Muddy Waters (McKinley Morganfield) journeyed up the Mississippi from the Delta region of Clarksdale, Miss. to Chicago and invented a new form of the blues. His "Rolling Stone" is the song the Rolling Stones named themselves for.
Muddy is joined by Otis Spann on piano, Mike Bloomfield on guitar, Jeff Carp on chromatic harmonica, Paul Butterfield on harmonica, Phil Upchurch on bass, and Sam Lay on drums (representing most of the Paul Butterfield Blues Band).
"Freight Train" (Elizabeth Cotten) by Jerry Garcia & David Grisman, and by Taj Mahal
Elizabeth Cotten was a left-handed finger-picking singer-songwriter-guitarist in the country blues tradition from North Carolina, born in 1895. This song is perhaps the oldest blues song about a train ever recorded, as she used to sing it as a child. It was actually put down on vinyl much later, in 1957, after folk singers like Pete Seeger had popularized it.
Cotten was well known for songs such as "Going Down the Road Feeling Bad", "Oh Babe It Ain't No Lie" and this song, which appeared on Not for Kids Only. Jerry Garcia (of the Grateful Dead) and David Grisman often collaborated, and are here joined by Hal Blaine on drums and Joe Craven on steam-engine voice. Check out Dawgnet, online home of mandolinist David "Dawg" Grisman and his independent record label, Acoustic Disc.
Taj Mahal has received two Grammy Awards (nine nominations) over his career which began more than four decades ago with American blues and country-rock (see Ry Cooder Sessions for more about Taj Mahal and the Rising Sons). He has since broadened his artistic scope over the years to include music representing virtually every corner of the world — west Africa, the Caribbean, Latin America, Europe, the Hawaiian islands and so much more. This song appears on In Progress & Motion.
"Mystery Train" (H. Parker, S. Phillips) by Elvis Presley
Elvis Presley heard Little Junior's Blue Flames do this song in 1953, and he recorded it in 1955. Herman "Junior" Parker wrote the song along with Sam Phillips of Sun Records. Parker toured with Howlin' Wolf's band and was part of the Beale Streeters with B.B. King and Bobby Bland. It is actually a blues version of a folk song called "Worried Life Blues" recorded by the original Carter Family and others. "Mystery Train" was a staple of the Paul Butterfield Blues Band and a favorite cover song by the Band, as well as the title of Greil Marcus' definitive book about rock music and American culture.
Check out the Original Unofficial Elvis Home Page, which has links to thousands of Elvis sightings on the Web.
"Peavine" (Hooker) by John Lee Hooker and Canned Heat
John Lee Hooker joined Canned Heat for these sessions: Alan Wilson on guitar, Henry Vestine on guitar, Antonio de la Barreda on bass, Aldofo de la Parra on drums.
From the late 1890s through the 1930s, the "Peavine" provided reliable transportation for bluesmen among the plantations of the Mississippi Delta. Charley Patton made the branch famous through his popular "Pea Vine Blues." Originally two narrow-gauge lines run by local entrepreneurs, it taken over in the late 1890s by the Yazoo & Mississippi Valley Company (called the Y&MV). The line ran from Dockery Plantation, where Patton lived, and then ten miles west to Boyle, where it connected with the "Yellow Dog" (the local slang name for the Y&MV line), which led to Cleveland and points beyond. The term "peavine" was commonly used for railways that followed indirect routes, resembling the vines of the pea plant.
John Lee Hooker's first recorded song, "Boogie Chillen" was an instant #1 song on the rhythm and blues charts in 1949. He is the undisputed godfather of boogie music. In 1962 he released "Boom Boom" which was covered by many English blues-rock bands, including the Animals and the Yardbirds.
"Hey Porter" (Johnny Cash) by Johnny Cash, and by Ry Cooder

The first "Hey Porter" is the original by Johnny Cash. It was recorded in Sept. 1954 and released as a single in July the following year. Cash wrote the song while on his way home to his native South from a four year stint in the Air Force.
The second version is a cover by Ry Cooder on Into the Purple Valley, who gives the song blues roots (which it never had), and demonstrating how rockabilly was derived from country blues. Ry Cooder started out in Los Angeles playing folk music, and in 1966 teamed up with Taj Mahal in the Rising Sons before joining Captain Beefheart's Magic Band, then contributing to various albums by Little Feat, Randy Newman, Gordon Lightfoot, and the Rolling Stones, among many others. Cooder is a virtuoso on virtually every string instrument, from Mexican tiple to Middle Eastern saz to Hawaiian "slack key" guitar, but is mostly known for his country-blues-style mandolin, electric and acoustic guitar, and slide guitar.
"It Takes a Lot to Laugh, It Takes a Train to Cry" (Bob Dylan) by Bob Dylan
Bob Dylan is joined by Michael Bloomfield on guitar, Al Kooper on organ and piano, Paul Griffin on piano and organ, Bobby Gregg on drums, Harvey Goldstein on bass, Charley McCoy on guitar, Frank Owens on piano, and Russ Savakus on bass. This song, recorded on July 29, 1965, started out with the title "The Phantom Engineer" (an alternate version by that title was recorded on June 16, 1965).
The line "Don't the brakeman look good, mama, / Flagging down the 'Double E'?" is probably a reference to a gauge of track width known as EE or "double E". Double E locomotives were the largest trains on American railroads, and a trainman who could flag down a double E was probably highly regarded by his peers.
Check out Bob Dylan's Official Page and an excellent fan site, Expecting Rain.
"Train Song" (Jansch, Renbourn, Thompson, Cox, McShee) by Pentangle
Bert Jansch and (the late) John Renbourn performed together as a folk duo in the Sixties. They teamed up with Jacqui McShee, Danny Thompson, and Terry Cox to form Pentangle, one of the first English-folk-rock groups. "Train Song" is a blues-influenced composition evoking the rhythms of a train. It slows into a more dream-like middle section with McShee's "instrumental vocalization" soaring above the band before picking up speed into an ending featuring Danny Thompson's bowed bass. The title of the album Basket of Light is taken from a line in the song, which refers to the basket of light thrown off by a train's headlight: "Love is a basket of light; grasp it so tight." See the video at the top of this page for a live version.
"2:10 Train" (L. Albertano, arranged by Ry Cooder) by Rising Sons
The band known as Rising Sons, which flourished in Los Angeles in 1965-66, featured Taj Mahal and Ry Cooder. The Sons were influential, playing in all the clubs in the Sunset Strip. Many Southern California bands of the late Sixties trace their influences to the Sons, including Love, the Byrds, and Canned Heat. Countless British groups had previously combined blues with Beatles-influenced rock, but such a combination was a surprising rarity in mid-'60s California. On their sole album, Rising Sons delved deeper than those groups for their influences, bypassing the Chicago Blues sound in favor of traditional Delta country blues.
The original version of this song was written by Tom Campbell and Linda Albertano. It was sung by Linda Ronstadt in the Stone Poneys around the same time as it was recoded by Rising Sons, and it was also included on Carolyn Hester's excellent 1965 concert album, Carolyn Hester at Town Hall.
"Orange Blossom Special" (Traditional) by Seatrain, and by the Nitty Gritty Dirt Band
Peter Rowan (vocals and guitar) and Richard Greene (violin), both well known among bluegrass and folk music fans, teamed up with Andy Kulberg from the Blues Project (flute on "Flute Thing" — see Monterey Pop 1967 Songs), Larry Atamanuik on drums and Lloyd Baskin on keyboards to make Seatrain, a bluegrass-rock fusion band in 1970.
This fiddle tune about the passenger train of the same name (operated primarily by the Seaboard Air Line Railroad between New York City and Miami), written by Ervin T. Rouse (1917-1981) in 1938 (with many bluegrass versions since), is given an almost rock treatment here. It is considered the best known fiddle tune of the 20th century and is often called simply "The Special". It has been referred to as "the fiddle player's national anthem" which is why the Nitty Gritty Dirt Band played this tribute.
"Downbound Train" (Berry) by Chuck Berry

Chuck Berry was joined by Otis Spann on piano, Willie Dixon on bass, and Eddie Hardy on drums — the Chess house backing band. Certainly the single most important black artist in rock and roll, Chuck Berry is arguably the most important figure in rock history. Chuck Berry melded blues, country, and a witty, defiant teen outlook into songs that influenced vitally every rock musician in his wake.
Bruce Springsteen would later write a song with the same title, and nearly the same meaning, for his album Born in the U.S.A.
"Folsom Prison Blues" (Johnny Cash) by Johnny Cash, and by the Charlatans

Johnny Cash was inspired to write this song after seeing the movie Inside the Walls of Folsom Prison (1951). Another source for the song was Gordon Jenkins's "Crescent City Blues" — Cash used the same melody, and borrowed some of the lyrics. Opened in 1880, Folsom State Prison (FSP) is the second-oldest prison in the state of California. Cash performed two live concerts at FSP; the first was in 1966, but the most famous was in the FSP cafeteria on January 13, 1968, which was recorded as the album At Folsom Prison. 

The Charlatans give this song an acid-rock sheen. They started their career in 1964 at the Red Dog Saloon in Virginia City near Reno in the high Sierras, drawing audiences from their friends in the Haight-Ashbury. The band included Richard Olsen on bass, Mike Wilhelm on guitar and vocals, Dan Hicks on drums and vocals, and Mike Ferguson on keyboards, with George Hunter on vocals, percussion, and style (he created that Wild West Victorian hippie look). For more of the Charlatans, see San Francisco Psychedelic Rock.
"Big Railroad Blues" (Noah Lewis) by the Grateful Dead

Recorded in 1970, just as the Grateful Dead were starting to break into mainstream rock, the Grateful Dead (Skull and Roses) album contained mostly rock and rhythm & blues numbers and only one long experimental jam (rather than an entire album of jams). The Dead at that time were Jerry Garcia on guitar, Bob Weir on guitar, Phil Lesh on bass, Bill Kreutzmann on drums, and Ron "Pig Pen" McKernan on organ and harmonica, with Merle Saunders also on organ (Mickey Hart had temporarily left the band).
The Dead most likely heard the Cannon's Jug Stompers version (for more of them, see Country Blues Roots of Rock), and may have performed it that way in early incarnations such as Mother McCree's Uptown Jug Champions. Noah Lewis, who as a member of Cannon's Jug Stompers wrote the song, was noted for being able to blow two harmonicas at once — through his mouth and his nose.
"The Rail Song" (Belew) by Adrian Belew

Adrian Belew is a fantastic guitarist who has played with David Bowie, Frank Zappa, and the Talking Heads, among many others. He is best known for his work as a member of the progressive rock group King Crimson (which he has fronted since 1981) and for his unusual impressionistic approach to guitar playing (involving arresting yet frequently melodic sounds more akin to animals and machines than to standard instrumental tones). No one can make a guitar sound quite like Belew with his renderings of rhinos and passing trains.
"Love in Vain" (Johnson) by Robert Johnson

"When the train left the station…" This is the perfect "slow train" song, in which the rhythm imitates the train as it leaves the station. And this of course is Robert Johnson, king of the Delta blues, who was the main inspiration for a generation of country blues and rock (see Country Blues Roots of Rock). Johnson was cited as the main influence by Eric Clapton, Keith Richards, and many others. He performed this in 1937.
"Love in Vain" (Johnson, arranged by Keith Richards) by the Rolling Stones
The most famous cover of this song is by the Rolling Stones on Let It Bleed. Ry Cooder played mandolin. It was also covered by Clapton on his album Me and Mr. Johnson, and Eric gave tribute to the song in his "Layla" with the line "please don't say we'll never find a way, and tell me all my love's in vain".
---
For the songs in my playlist, see below.
---
Overall Copyright (c) 1996-2018 by Tony Bove (for Rockument.com). Individual art, music, and video clips are copyrighted by their respective owners.