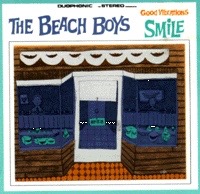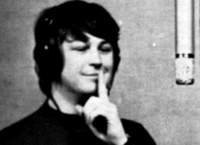 This is a form of rock music archaeology — the unearthing of the lost tracks for the Smile album by Brian Wilson and the Beach Boys in 1966-67.
Nearly 40 years after it was initially conceived by Brian Wilson, the released version of Smile — produced entirely by Brian Wilson with a new band — became available on Sept. 28, 2004.
The unreleased material from the Smile sessions in 1966-67 have also been released on iTunes. The sessions by the Beach Boys and Los Angeles' finest studio musicians, directed by Brian, were recorded in an atmosphere of friendly but anxious competition to be the number one pop group. But not just a pop group — to be a pop art group. The Beatles were about to release Sgt. Pepper, and Paul McCartney has said from time to time that he was directly influenced at that time, especially in his style of bass playing, by Brian Wilson. (Especially the Pet Sounds album.)
But something happened on the way to the record plant. The original Smile album never appeared. The Beach Boys (with Brian Wilson's live replacement, Bruce Johnston) had just returned from a hero's welcome in the U.K. to find Brian mixing these outrageously different tracks. Mike Love of the Beach Boys was particularly upset about the incredible lyrics by Van Dyke Parks. At that time, the Beach Boys were in the process of suing Capitol Records, and they were supposed to headline the Monterey Pop Festival. The other Boys apparently did not want to depart from the commercial formula and release Smile. Brian's pop art masterpiece was nearly lost… until he revived it in 2004.
Smile: Here Today
Brian Wilson finally realized his dream of putting together the definitive version of Smile. On Sept. 28, 2004, Nonesuch Records issued a newly recorded version put together by Brian and lyricist/collaborator Van Dyke Parks. Rock music collectors everywhere were startled to hear the news.
The recordings used Brian's touring band and the Stockholm Strings & Horns. Sessions started April 13, 2004, in Los Angeles after Brian returned from London, where he had performed the album live at the Royal Festival Hall in February, 2004. The series of live performances at the Hall are the blueprint for the new version, according to David Leaf (as interviewed in ICE Magazine). Brian Wilson's Smile is simply outstanding, and so is the DVD, Brian Wilson presents SMiLE by David Leaf, which tells the story through interviews of Brian, Van Dyke Parks and others, concluding with Brian's performance of Smile at the Royal Festival Hall.
The new Smile uses a track sequence that is different than any sequence dreamed up by historians and Beach Boys buffs for the original Smile. The recordings are new versions, which means the original recordings are still highly valued by collectors. The new versions are absolutely faithful to the sound and the lyrics of the originals, yet produced with contemporary production values.
Smile Wasn't Made For Those Times
Brian Wilson's Smile concept was far ahead of anyone else in pop music in 1966. When Hendrix referred to the Beach Boys as a "psychedelic barber shop quartet" everyone assumed he meant "Good Vibrations" (the hit song recorded before the Smile sessions and used on the album at Capitol's insistence, that became the Beach Boys' most memorable song). While the impact of "Good Vibrations" in 1966 was profound, imagine how the Beach Boys would have been perceived had they produced an entire concept album! The original Smile sessions were produced entirely by Brian during late 1966 and early 1967. In April of '67, Paul McCartney stopped by L.A. and played Brian a tape of "A Day in the Life" and contributed to a "Vega-Tables" session. The professional competition was very real, the stakes were very high, and the high regard for each other was mutual. There had been nothing like the concept of Smile before this, and the Beatles' Sgt. Pepper would set a new standard a few months later, at the start of the Summer of Love.
An essential ingredient in the mystery of the Smile sessions is the perception of Brian Wilson as a misunderstood genius. During this period and after he withdrew more and more from reality. His frightening experiences with drugs and strange behavior through the 1970s and 1980s seemed to have its roots in the final Smile sessions, when the group nearly broke up (some say it actually did, and Brian simply went along with the myth for years after). Armchair psychiatrists pronounced him crackers, while family members tried to protect him. One thing is certain: Brian never again commanded the full attention and full cooperation of the Beach Boys, and therefore ceased to be able to exert artistic control over the group's output. Since then, Brian has made startlingly good albums.
So I look upon Smile as the lost answer to the Beatles' Sgt. Pepper, as the mythical source of inspiration for a generation of musicians and artists who were lucky to have heard it or found a bootleg of it (see Making God Smile). American pop art at its best. You can follow the playlist below to obtain and listen to some of the original recordings for the Smile project.
Do-it-yourself Smile Sessions
Smile, as Brian Wilson conceived it, is comprised of three movements that were spread over two sides of a vinyl LP, but are now collected on a single CD, so that you can hear them without any interruption. If the vinyl LP had been released, it most likely would have fit the first two movements on side 1, and the third movement on side 2.
You can put together your own Smile Sessions playlist using various tracks released on Beach Boys albums and bootlegs. I use the Smile bootleg from Luna Records (LU9207) as "Bootleg" in the text below; unfortunately it is not available commercially. For an excellent compilation of Smile "bootleg" LPs, see the Smile Listing Page.
First Movement (Side 1 of an LP)
"Our Prayer"

 (Good Vibrations: Thirty Years Of The Beach Boys) Smile opens with a prayer. Brian Wilson was quoted back in 1966: "I think pop music is going to be spiritual… Songs of faith. I'm very religious. Not in the sense of churches, going to church; but like the essence of all religion." What had changed Brian Wilson, a writer of songs about surfing and hot rods? "About a year ago I had what I consider a very religious experience. I took a full dose of LSD, and later, another time, I took a smaller dose. And I learned a lot of things, like patience, understanding. I can't teach you, or tell you, what I learned from taking it. But I consider it a very religious experience."

("Gee" Link Track)

 (Bootleg) This starts off with an a cappella dit-dit-diddy-wah "how I love my girl" lift from the Crows' "Gee" (the vocals sound like a Frank Zappa chorus).

"Heroes & Villains Pt. 1"

 (Smiley Smile/Wild Honey) Titled as an "alternate take" on this two-for-one CD package, up to the end "dum dee doobie-doo" fade-out. Also known as the "in the cantina" version. Lyrics by Van Dyke Parks were considered too weird by Mike Love of the Beach Boys. Eventually the Boys made the song part of their live act, even using lyrics from the never-released "Bicycle Rider" song!

"Heroes & Villains Pt. 2"

 (Bootleg and Good Vibrations: Thirty Years Of The Beach Boys) This part includes animal noises and breathless exhilaration, and moves on to a slower a cappella "Dit dit dit heroes and villains" with "bom be doobie wah" counterpoint — Brian didn't use it in the final version of 

Smile

. The Good Vibrations box set "Sections" version is unfortunately edited differently. The song is supposed to go into the "my children were raised" stanza and ending from the Smiley Smile version, which everyone knows. You have to perform this edit yourself.

"Roll Plymouth Rock (Do You Dig Worms)"

 (Good Vibrations: Thirty Years Of The Beach Boys) You can hear the first "Beach Boys" version of this song on the Good Vibrations box set — vocals for the verses were written but not recorded until the final version in 2004. "Rock, rock, roll, Plymouth rock, roll over…" The childishly beautiful and haunting "bicycle theme" is repeated in this song. Then comes psychedelic Hawaiian music. What next?

"Bicycle Rider"

 (Good Vibrations: Thirty Years Of The Beach Boys and bootlegs) The opening part of the "Bicycle Rider" section of this song is included in "Heroes & Villains (sections)" on the box set, starting at the beginning and including the lyrics about the American Indian. The "bicycle rider theme" brings the song to a haunting, closing segue into…

"Barnyard"

 (Bootleg) Complete with animal noises. This song quickly segues into…

"The Old Master Painter/You Are My Sunshine"

 (Bootleg) Dennis Wilson sang lead vocal on the Beach Boys version; Brian himself sings it on the final version of Smile. I haven't heard the Dick Haynes version (1952) of this song. However, this version is dreamy.

"Cabin Essence" 

(Good Vibrations: Thirty Years Of The Beach Boys) This version is better than the version eventually released on 20/20 (though not much different).
Second Movement
"Wonderful"

 (Good Vibrations: Thirty Years Of The Beach Boys) Perhaps the best track to be released on the box set from the 

Smile

 sessions. This version is simply better than other versions released (Smiley Smile/Wild Honey, Brian's more recent album, I Just Wasn't Made for These Times).

"Song For Children-Child is Father of the Man"

 (Bootleg) Brian once told an interviewer, "Another thing that interests me… who was it? Karl Menninger, who said 'The child is father of the man.'" Many bootlegs include a song titled "Look" or "Holidays" that is an instrumental wonder, featuring a harpsichord/bass combo and then a penny whistle and vibes theme, backed by muted horns. This instrumental material has been woven into the final version of this song released in 2004.

"Surf's Up"

 (Good Vibrations: Thirty Years Of The Beach Boys or Sunflower/Surf's Up) I would use the final Surf's Up album version (which is also available on the box set, along with the piano-only live version). The piano-only live version, however, is beautiful, and should be treasured as the "live" version. A reprise of "Child is Father of the Man" was woven into the end of "Surf's Up" (as it appears in the final Surf's Up album, see Sunflower/Surf's Up) and there was considerable debate about this, but now there is irrefutable evidence that Brian meant it to be exactly that way. I can't imagine a better ending to side 1 as the ending to this song.
Third Movement (Side 2 of an LP)
"I'm in Great Shape/I Wanna Be Around/Workshop"

 (Bootleg) Also known as "I Wanna Be Around/Friday Night" and "The Woodshop Song" mainly because it features sounds from a wood shop. The lead vocals for "I Wanna Be Around" were first recorded in 2004.

"Vega-Tables (Vegetables)"

 (Good Vibrations: Thirty Years Of The Beach Boys) This song resurfaced on Smiley Smile in a considerably less inspired form; the Smile version features the coda "Sleep a lot, eat a lot…", has Paul McCartney munching vegetables in the studio, and probably would have made an interesting single.

"On a Holiday"

 ("Holidays" on some bootlegs) Flutes, vibes, penny whistles, kazoos… This song reprises the "Rock, rock, roll, Plymouth Rock, roll over" theme from the first movement. New lyrics were written and recorded in 2004, and the melody was also improved.

"Wind Chimes"

 (Good Vibrations: Thirty Years Of The Beach Boys) The differences between this version and the version that eventually appeared on Smiley Smile/Wild Honey will blow your mind. You can do this at home, since both versions are now released. Then, blow your mind one more time (!) with the final 2004 version, with its extended ending and segue into…

"Mrs. O'Leary's Cow"

 ("Heroes & Villains (Intro)" on Good Vibrations: Thirty Years Of The Beach Boys) Titled erroneously "Heroes & Villains (Intro)" on the box set, this track segues quickly into the full-blown version of "Mrs. O'Leary's Cow" (Bootleg). This track, created with everyone wearing fire hats in the studio, caused Brian to think that Santa Monica was going up in flames as they performed it, due to the increasing number of fire alarms sounding throughout the city during that time.

"In Blue Hawaii"

 ("Love to Say Dada" on Good Vibrations: Thirty Years Of The Beach Boys) Parts of this song eventually resurfaced as "Cool Cool Water" on the Sunflower album. Rumor has it that there is another version that was left off the Wild

 

Honey album.

"Good Vibrations" 

(Good Vibrations: Thirty Years Of The Beach Boys) From start to finish, a pop masterpiece, and one of the most expensive singles ever produced. In the 2004 version, Brian changed the lyrics back to the original Tony Asher lyrics that had been replaced by Mike Love in 1966.
Studio musicians who played in these sessions and on Pet Sounds include Hal Blaine (drums), Jim Gordon (percussion), Glen Campbell (guitar), Barney Kessel (guitar), Leon Russell (piano), Steve Douglas (sax), Carole Kaye (bass), the Sid Sharpe Strings (violins and violas). Recorded at the end of the Pet Sounds sessions, and before the Smile sessions were started, "Good Vibrations" is considered the link from Pet Sounds to Smile, and a perfect end to the Smile album.
Much has been written about the Smile sessions. My favorite speculative book is Look! Listen! Vibrate! Smile! compiled by Domenic Priore, who has since compiled a new book, Smile: The Story of Brian Wilson's Lost Masterpiece — co-authored with Brian Wilson and Van Dyke Parks.
---
Overall Copyright (c) 1996-2018 by Tony Bove (for Rockument.com).